Wednesday, December 8, 2004


Issue of the Week: eBay items
The online auction company, eBay, has been in the news for some rather bizarre items. Images of the Virgin Mary on a 10-year old cheese sandwich and someone's father's ghost have been put on the auction block. Though these are all interesting items, we ask: What would you like to see for bid on eBay?
A superstar's original nose
I'll admit it. I'm not above seeing the occasional celebrity exposť on the E! channel or some other drivel-ridden entertainment program [Read article]



Christmas' broad traditions
I love how the history and meaning of Christmas yielded in the 20th century to consumerism. honey-baked hams, mounds of presents and unhappy families are sometimes the only thing I can think of when Christmas comes to mind. Being that I can't even decide whether or not God exists, I think knowing that this holiday signifies the birth of Jesus means a lot when that's all that just about anyone under the age of 14 can tell you. [Read article]



My Christmas gift list
Out of all the times of the year, I love this season the best. The cold, crisp weather, the twinkling lights, distracting tinsel. I know it's bordering on the mushy and sentimental, but come December I'm all about the red and green. It's times like these when I wish the domestic goddess Martha Stewart was still around, a woman who can make any ordinary living room look like the Waldorf using just an old newspaper and twine. My own lacking decorating skills and my attempts to make a picture perfect holiday environment; this is when I need her guidance the most. [Read article]



Viewpoints: What are the best stress relievers you can recommend for finals?
"I would say going down and getting a beer. Sex or beer. Preferably sex. Beer, then sex."
"I watch TV sometimes while I study 'cause it lightens the mood."
"I don't release my stress. I just get frustrated. A midnight swim in the Old Main fountain has also been known to relieve stress. It's really cold."
"We do it every Monday night. We go swimming... Monday night swim in the (Old Main) fountain." [Read article]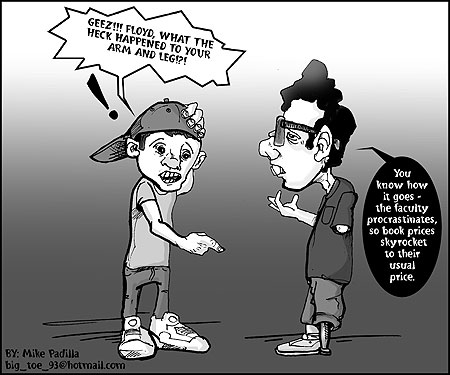 showAds('bigbutton')?>






showAds('mediumbutton')?>

showAds('wildlinks')?>