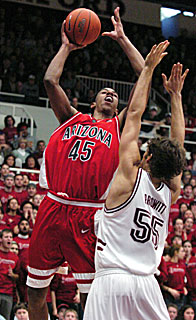 CHRIS CODUTO/Arizona Daily Wildcat

UA senior center Channing Frye puts the ball up during the Wildcats' 87-76 road loss to Stanford Saturday. The win was the Cardinal's first in four Pac-10 games this season.

By Roman Veytsman
Arizona Daily Wildcat
Wednesday, January 12, 2005
Print this


Winter break went well for the No. 16 Arizona basketball team, but it could have gone great. The Wildcats (12-3, 2-1) went 6-0 in that stretch before stumbling at Stanford, 87-76, on Jan. 8.

During the break, they beat a ranked team in Marquette, while playing a defensive brand of basketball, scoring only 48 points, but holding Marquette to just 43.

They also played that game without senior guard Salim Stoudamire, who failed to live up to "senior responsibilities." Arizona played archrival ASU and played as well as it has played all year, beating them 97-79 in the Pacific 10 Conference opener at McKale Center. The team hit 100 points for the first time this year against Manhattan, showing the mid-major Jaspers it had no chance against the Wildcats early in the game. Arizona won the game 105-75 and made a statement of not playing down to the level of their competition.

Pac-10 Men's Hoops
Arizona Wildcats

vs.

USC Trojans
Tomorrow, 8:30 p.m.
TV: Fox Sports Net Arizona
Radio: KCUB 1290 AM

McKale Center
"I am very proud of our team for going up big early in the game," senior center Channing Frye said. "We all stepped up and tried to come out and make a statement."
The Wildcats continued their domination in the Fiesta Bowl Classic, sending away Richmond and Eastern Washington by a combined score of 163-116.
With two games left before the end of break, Arizona traveled to Berkeley and dispatched California 87-67 in front of a large contingent of Arizona fans. But with Arizona's nine-game winning streak on the line, Stanford halted Arizona's success defeating the Wildcats 87-76, while shooting 58 percent from the floor and 60 percent from the 3-point arc.
UA assistant coach Josh Pastner said the loss was due in part to poor defense as well as Stanford's hot shooting. Overall, he was impressed with the improvements the team has made and said the Wildcats played very well during winter break prior to Stanford.
The Wildcats high-low offense has looked much improved and sophomore point guard Mustafa Shakur has risen his game, shooting the ball 38.8 percent from above the arc.
"I've been putting in a lot of extra time in the gym. It is starting to come together now," said Shakur.
Along with Salim Stoudamire, the combo sparked not only Arizona's offense, but also its defensive pressure. "Our defense is really locking down," said Shakur.
Another spark for the team has come from junior guard Chris Rodgers, who scored 20 points against Richmond and added 10 points and five assists against California. He's established himself as the sixth man for the Wildcats and has proven that he is not just a defensive player.
"My teammates and everyone trusts me to come in the game and have intensity," Rodgers said after the Richmond game.
Although the trip to Stanford put a damper on the Wildcats early season, the overall play has Arizona poised to make a strong effort at the Pac-10 crown. With no one in the Pac-10 unbeaten, the league competitiveness should be as high as ever. And as always, Arizona is everyone else's prime target.
"One thing about us no matter where we go is that it's going to be one of the biggest games of the year for them," head coach Lute Olson said.


Write a Letter to the Editor