Wednesday, September 1, 2004


Issue of the Week: Republican Convention
The delegates have converged, protesters have wracked their brains for a witty chant that rhymes with Iraq, and thousands of red, white and blue balloons have been blown up for this week's Republican National Convention. With this being a close presidential campaign, the RNC will no doubt add to the spectacle of this year's election. The question is, what effect, if any, will this bring?
No undecideds means no effect [Read article]



A Wider Lens: The Democratic marketing quandary
For having so much of Hollywood behind their cause, one would think that the Democrats would be doing a fairly good job of marketing themselves and their presidential candidate.
That would be an incorrect assumption, and the polls are starting to show it.
As the Republican convention is occurring in New York this week, recent polls show Kerry's support eroding on a national level and also in battleground states like Florida and Ohio. [Read article]



Mailbag
Stem cells weren't created for research
Mr. Roger Foreman seems to have missed the point of Brett Berry's Monday column, "Science Should Trump Ideology." It is most certainly debatable where exactly life begins, and I leave that up to people more scientifically and spiritually intelligent than I.
But Mr. Foreman is laboring under the very misconception that Mr. Berry set out to dispel: that the embryos that produce the stem cells are created explicitly for stem cell research. The real point of Mr. Berry's article was that stem cells come from embryos that were already created and condemned prior to their being enrolled for stem cell research. [Read article]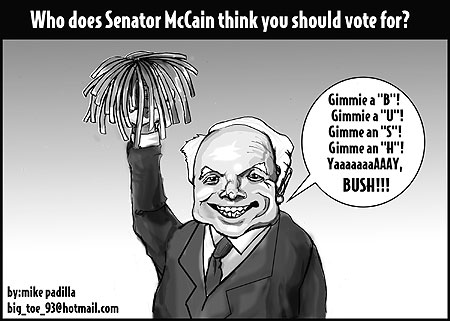 showAds('bigbutton')?>


showAds('mediumbutton')?>

showAds('wildlinks')?>