Thursday, January 27, 2005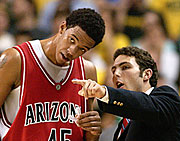 ARIZONA VS. WASHINGTON
First place in the Pacific 10 Conference will be up for grabs when the No. 10 Washington Huskies battle the No. 11 Arizona Wildcats tonight at 6:30 in McKale Center.
Because Washington (16-2, 6-1 Pac-10) handled Arizona (16-3, 6-1) three times last season, including once in the Pac-10 tournament in March, this game figures to be more than a matchup between two highly ranked teams.
"A person would have to be really out of it if they don't realize that this is a big game," said UA head coach Lute Olson. [Read article]

·
Women's Hoops: 4,700 on hand for Cats' win over ASU
·
Women's Tennis gets 2nd chance at 1st home meet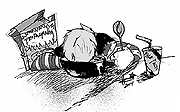 A new class of infectious diseases is on the rise, affecting a unique demographic - journalists and the news media. This exclusive group is suffering a potentially deadly affliction that has affected their quality and integrity severely. Two of the causative pathogens have recently been identified.
One common journalistic bug is the nasty bacterial organism Fabricus factus (commonly called outright fraud).
The symptoms associated with these bacteria include stories that are too good to be true. The method of transmission is fascinating, though not uncommon. The disease enters into the body once the mind gives in to the pressures of money, power, sensationalism, unethical editors and the temptation to lie just becomes too great. This disease has caused the fatalities and dishonor of many in the news business; it has infected even the most impenetrable bodies. [Read article]

·
We're being branded
·
Mailbag
Latest Issue: January 20, 2005

require('/home/webby/html/papers/98/polls/current.php')?>

showAds('bigbutton')?>






showAds('mediumbutton')?>


showAds('wildlinks')?>