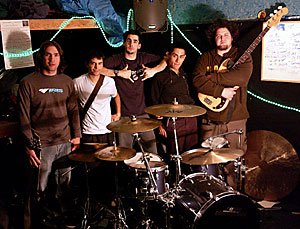 CHRIS CODUTO/ARIZONA DAILY WILDCAT

"Camp Courageous" - band members, from left, Jon Mancuso, Bobby Saavedra, Brian Martin, Danny Moreno and Jon D'Auria are the newest indie rockers to come out of Tucson.

By Kylee Dawson
Arizona Daily Wildcat
Thursday, February 10, 2005
Print this


UA students rock out as 'Camp Courageous'

The guys of Camp Courageous have a motto: "Arguing about music is like dancing about politics."

Paraphrasing Thelonius Monk is one thing, but living up to the jazz legend's words is exactly what this local band tries to do on a daily basis.

For now, Camp Courageous' ultimate goal is not to make millions and piss their lives away snorting cocaine off models' asses.

They just want to share their music with the world and will do it by any means possible. Even if that means giving away their CDs for free, for crying out loud!

"If we weren't musicians, we'd be poets or we'd be writers or we'd be artists," said bassist Jon D'Auria, a UA communication junior. "All five of us are just so into people and trying to affect people and that's why, with our live show, our biggest goal is to totally transform the crowd's mood to our music and try to manipulate that."

Consisting of five guys who all went to high school together - including vocalist Gabriel "Danny" Moreno (education senior), guitarist Jon Mancuso (political science senior), guitarist Bobby Saavedra and drummer Brian Martin - Camp Courageous is a band that definitely challenges the typical band structure, considering they all get along and respect each other.

Since they all played sports together and did everything else together in high school, Moreno said it was only natural for them to start a band together.

After thumbing through about ten thousand names, D'Auria said they finally settled on the name Camp Courageous because they liked the aesthetic way it triggered certain emotions.

"It manifested itself as a result of us being together, like a camp, a group of us encouraged to try new things together," Moreno said.

Self-described as "postmodern indie rock," Camp Courageous' sound has sprung from a wide array of influences from Radiohead and Björk to SWV and System of a Down.

"We're the sum of all five of our parts, so all of us just have a huge circle of music that we just love to death," D'Auria said. "And outside of that circle all of us have individual stuff that each of us listens to."

Such stuff includes Moreno's love of early '90s R&B, D'Auria's extensive collection of hip-hop, and Mancuso and Martin's love of indie bands like Seattle's Minus the Bear. Saavedra's guitar influences include Sting, Dave Matthews Band and more worldly sounds like Spanish guitar.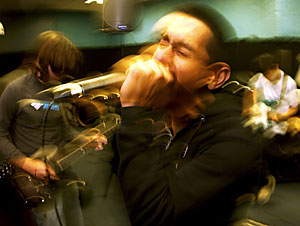 CHRIS CODUTO/Arizona Daily Wildcat
"Camp Courageous" - Lead singer Danny Moreno jams with fellow bandmates during a late-night rehearsal session downtown.
On first listen, Moreno's softly pulsating vocals sound like a cross between Jeff Buckley and Billie Holiday.
Though 70 percent of their online fan base has mistaken Moreno for a female vocalist, D'Auria said they all take it as a complement.
Moreno grew up listening to his mother, who is a singer in a Latin jazz band, as well as Holiday, Ella Fitzgerald and Sarah Vaughn, so it's no wonder it had an effect on his singing style.
However, Moreno said the band had never listened to Buckley until much later when KXCI's Don Jennings noted the comparison.
"I think it's a tremendous complement," Moreno said about being compared to Buckley. "I don't think I'm that gifted, but I also take it with a grain of salt because I think people associate me with him because it's very melodic and R&B driven vocals combined with rock music or whatever you want to call that genre, so I think that's why some people make that assumption."
Despite such vast differences, the songwriting process is always a group effort.
"We've been getting better at all writing together, each contributing to a song," Moreno said. "There isn't a time where someone comes with a complete song and we have to come fill in blanks. I think we totally manifest collectively."
Rather than dancing around the endless theme of relationships, Camp Courageous' songs dwell more on political and social issues, such as border control as discussed on "One Lane Bridge."
"Ran Out on Your Birthday" tackles materialism, "Lithium" addresses the overly medicated state of society, and "Strange As it Seems" explores suicide and vulnerability.
Though the band wants mainstream success, they're not willing to sell their souls for it anytime soon by changing their sound or their "nice guy" image.
"We try and keep everything as pure as possible," D'Auria said. "I've noticed a majority of the bands out today, at any level, seem like they're trying too hard to be something that they're naturally not. You can hear the majority of the bands just forcing something that sounds contrived and that's the downfall of mainstream music and that MTV era."
Camp Courageous would much rather play a small bar gig than be on "TRL" any day, especially when they get positive feedback from fans who've been encouraged by their live shows.
"We feed off of that for months," D'Auria said.
The competitive nature of bands - locally and nationally successful - is another cause of the downfall in music.
"We don't line up with jerseys on and numbers and try to demolish the competition," D'Auria said. "That's not what music is about."
"I agree," Moreno said. "We should spend less time competing and spend more time perfecting our art. I think the quality of music locally as well as nationally would reveal that if people just spent more time sweating about sounding good as opposed to, like, beating everyone else."
The band released their first four-track demo, With All Due Respect..., last year and is currently working to record a full-length album, which they hope to release in mid-April.
Until then, students can get copies of their demo at their shows or listen to their music online at courageousmusic.com.
Camp Courageous will perform at Frog & Firkin tomorrow at 9 p.m. They will also perform with bands A Soft Heart Break Beat and The Year at Plush on Friday, Feb. 25, at 9 p.m.
For more info, check out their website: www.courageousmusic.com


Write a Letter to the Editor