Arizona Daily Wildcat
Thursday, February 10, 2005
Print this

Mates of State - All Day
6 out of 10
Good pop music can be infectious. It can dig and burrow its way into that crevice of your brain, but too much can rot and spoil your teeth.
Bad pop music fills the exact same section of your brain, but only seems to repeat itself during those moments of extreme illness or delirium; it too will rot your mouth to dust. Indie group Mates of State teeter somewhere between these two extremes and emerge slightly tarnished with their new EP All Day.
Mates of State are married couple Jason Hammel (drums, vocals, guitar) and Kori Gardner (organ/keyboard, vocals, guitar), who could easily be labeled the indie Captain and Tennille.
The EP begins in grandiose fashion with the finely crafted indie-pop bounce of "Goods [All in Your Head]." The song rolls forward on a bouncy organ and "da, da, da" vocal charm up to its mid-song breakdown and rollicking finale. This song shows the vocal and musical fun Hammel and Gardner can generate at their peak. The next two songs, "Along for the Ride" and "Drop and Anchor," are mindlessly pleasant, but far from spectacular.
The EP closes with an interesting, if standard, cover of David Bowie's Ziggy-era "Starman." Bowie's yelp and acoustic guitar are replaced by the Mates' dueling vocals and stabby organ. The result is pleasing, but far from unique.
The main problem with this EP lies in its saggy midsection, which discounts half of the release. While it properly fills that space between good and bad pop music, often in the same song, it's frequently too sterile and soulless for no apparent reason. Enjoyable enough for a few repeats, All Day ultimately does little more than rot the teeth.
- Michael Petitti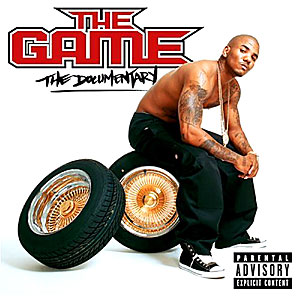 The Game - The Documentary
7 out of 10
In the old school tradition of gangsta rap, newcomer The Game takes on bitches (no hos), rival gang members and thug life in general with his debut album The Documentary.
What's more, this Nigga With a lot of Attitude - overly infatuated with NWA - is attempting to restore the West SY-EED to the forefront of modern day rap.
The Documentary appropriately demonstrates the fact that gangsta rap, on the surface, appears to be the same as it was a decade ago. And it ain't goin' nowhere. The problem is that Game's so-called "personal documentary" could double for just about every other gangsta-turned-rapper from Compton or South Central L.A. or any other ghetto in the country. (Well, at least it gives the album a "universal" appeal.)
Content aside, the quality of music on each track is fresh enough to keep white kids blastin' their SUV stereos for a while. True, there is nothing extraordinarily unique about The Game's lyrics, but the beats are tight! Executively produced by Dr. Dre and 50 Cent, of course they would have to be.
Dre definitely takes you back to The Chronic days with the "Where I'm From," while "Dreams" and "Hate It Or Love It," have that nostalgic Marvin Gaye-ish sound. "Like Father, Like Son" even incorporates beautiful orchestral strings, but doesn't make Game any less hard than he comes off throughout the album.
Fueled by the success of his first single, "How We Do," Game is simply following in the tracks of 50 Cent, who followed in Eminem's. And having cameos by both rappers, in addition to several other artists, doesn't hurt either.
Other guest artists include Mary J. Blige, Faith Evans, Snoop Dogg, Busta Rhymes, Nate Dogg, G-Unit's Tony Yayo and Floetry's Marsha, but not a one of 'em takes Game's thunder, although 50 Cent tries to with three separate appearances.
Again, there is nothing profoundly unique about The Documentary's lyrics overall, but every once in a while Game says something profound, as in the Kanye West-produced, "Dreams" in which Game raps, "...I walked over heard Jam Master Jay / Its a hard knock life, then you pass away / They say sleep is the cousin' of death / So my eyes wide open cuz a dream is kin to ya last breath."
Game does something most rappers do to fellow rappers: takes potshots at females including Mya and 50 Cent's ex, Vivica A. Fox ("Dreams") and even Mariah Carey and Tyra Banks ("Higher").
Perhaps he doesn't do it in the most respectful way, but in the same breath, Game also pays tribute to Aaliyah, Left Eye, Eazy E, Tupac, Biggie, Rick James, ODB and a grip of other "dead homies."
The best part of the album is definitely the jacket art-which includes a portrait of Game sitting at a kitchen table covered with automatic weapons and chronic-so you'll definitely wanna buy this one instead of downloading it.
- Kylee Dawson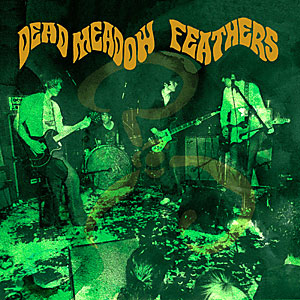 Dead Meadow - Feathers
7 out of 10
Dead Meadow lives in a swamp. At least, one would imagine that, as Feathers is drowned in enough reverb, delay and thick distortion to sustain any reptile and darken any waters into mud.
Dead Meadow is a hodge-podge of influences that include early Black Sabbath, Led Zeppelin and Robert Johnson. However, such heavy-hitting influences don't overpower the originality of the band.
The album starts with "Let's Jump In," a song buried in droning guitars and a thumping rhythm section. Guitarist Jason Simon lets his vocals gently swim underneath the wash of dense noise as the lyrics call to mind Zeppelin's love for all things Tolkienesque.
"I fell out, from none I came to/ From the face of the Almighty/ I fell on through."
Dead Meadow's blues influence is evident in the plaintive delayed strum of "At Her Open Door" and the distorted slide guitar bellow of "Stacy's Song." Both songs show the versatility of Dead Meadow, with the latter suggesting a comparison between Simon's voice and that of Sonic Youth's Thurston Moore.
The album's major flaw, aside from the occasionally throwaway lyrics, is the ability for it to blend into one big psychedelic-blues soup. However, repeated listens are a quick cure to this minor inconvenience. Feathers is an album that gets remarkably smarter and edgier with each listen.
The band displays their best chops on the closing track, "Untitled." The 13-minute song allows plenty of space for Simon and fellow guitarist Corey Shane to jam, and the duo pay homage to all their favorite genres, from fuzzed-out blues to soaring psychedelic. After the first three minutes, the song becomes an instrumental and allows the entire band room to show off. It turns into something that sounds like the rock version of improvisational jazz, with each member tightly following the other's lead to the final wall of feedback.
Although Dead Meadow may appeal to a select number of people drawn to the swamp-rock sound, the band seems intent on monopolizing that particular market with some of the sharpest and smartest music around. Feathers is music muddy and dark enough for the reptile in all of us.
- Michael Petitti
The Academy Is... - Almost Here
6 out of 10
Somebody needs to tell The Academy Is... that it isn't 2002 anymore. The Florida-based group picks up where bands like Something Corporate and Taking Back Sunday left off, but fails to add anything new to the already over-saturated, over-played, and over-MTV-ed genre.
Almost Here, the band's first full-length album, takes cues from its pop-punk predecessors and features the requisite clichéd lyrics about how hard it really is to be a young man with your entire life in front of you. "Classifieds" tells the tale of the trials and tribulations of the lead singer of a band who has "got a decent voice, he's got that crooked smile." From the sound of things, it must be hard to be in a band these days.
Despite the over-abundance of trite melodies and lyrics, Almost Here manages to have a few enjoyable songs. The first track, "Attention," is upbeat and fun with a catchy, albeit typical, poppy beat. Unfortunately, expecting greatness to follow the opening track is just a set-up for disappointment. "Black Mamba" is the only other track that shines on the otherwise dull album. Featuring a ska-like rhythm, the song tells critics, in reference to Almost Here, that "they can love it, or leave it, or rip it apart." It's nice to have permission.
- Laura Wilson


Write a Letter to the Editor