Students, community rally for access to abortion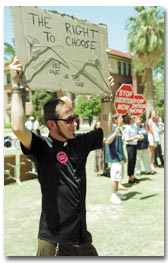 Pro-lifers demonstrate alongside women's reproductive rights advocates
About 200 people gathered on the UA campus yesterday for a pro-choice rally that remained peaceful, even though pro-life activists demonstrated alongside people advocating a woman's right to an abortion.
The rally, which included speakers and informational tables from supportive organizations, ended with a march around the University of Arizona Mall and Old Main.
Lydia Hallay, a women's studies and creative writing sophomore who helped organize and emcee the event, stressed the need for activism.
"Women's fundamental rights to their own bodies are in jeopardy," she said. "It's extremely important to show it won't happen.
"We're gonna raise hell, basically."
Pro-choice proponents took aim at President George W. Bush and his conservative, anti-abortion administration - including Attorney General John Ashcroft, an outspoken foe of abortion, and Bush's decision to end U.S. funding for abortions performed overseas - calling him "public enemy number one."
History prof always 'had time for his students'
UA director dies after 50 years of work
UA history professor Heiko Oberman, an internationally-renowned religious historian, Regents professor and director of the late medieval and Reformation studies division in the history department, died Sunday at age 70.
Oberman, who grew up in the Netherlands, came to the University of Arizona in 1984. He was widely recognized as a foremost expert on the Reformation. Oberman's writing career spanned more than half a century and included "Luther: Between Man and the Devil," one of his most honored works.
"Oberman was an incredibly energetic man," said UA history lecturer Peter Dykema. "A true intellectual. A man fascinated with the past and ways to bring the surprise of the past to students and the broader community."
"He was a formidable person," said history professor and department head Richard Cosgrove.
Dynamic diving duo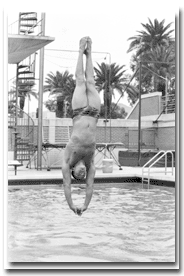 Best friends Vaca, Ojeda lead Wildcats to prominence
For 13 years they have been practicing their dives to perfection. Today, practice has paid off.
As juniors on the Arizona men's diving team, Omar Ojeda and Ruben Vaca have raised their diving to the next level - proving that no competition is too challenging.
According to the two men, the key to their success has been a lifelong friendship that carries over into the pool.
"We are practically brothers," Ojeda said. "He knows everything about me."
Born and raised in Mexico City, the two took up diving by accident after they noticed how much they enjoyed the water.
Rally proves UA capable of healthy debate
Those who believe the post-NCAA championship game riots caused the UA's reputation to fizzle should take a harder look at UA student activism before making such an assumption.
Yesterday morning, about 200 UA and Tucson community members gathered for a rally about one of the most heated issues America faces - abortion.
The groups ranged from the UA Young Democrats and the College Republicans to Students Against Sweatshops and the Tucson Arts Brigade. Some of the groups were staunch pro-choice advocates, while others were vehement pro-life crusaders.
Yet without a single fist fight breaking out or a single gunshot being fired, these groups engaged in a highly charged, ideological debate about one of the country's most divisive issues.
In the Spotlight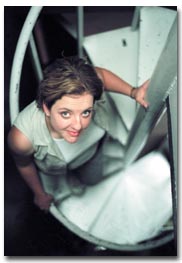 Lighting designer, theater senior Amber Grunwald brings the backstage to center stage
The curtain falls, and as it does, the audience claps and cheers. The actors emerge, taking their bows. Another successful production - this is the magic of theater.
That is, unless you ask Amber Grunwald.
"I think it's a magical place - backstage - and a lot of people don't realize that. It's unfortunate," said the theater arts senior. "I would rather be behind stage than on stage. It gets overlooked a lot what the designers and technicians actually do."
Yet it is overlooked no more - Grunwald joins the ranks of five other Fine Arts seniors when she was named the theater department's Senior of the Year.
"I didn't expect it at all. I didn't even know they did it," Grunwald said.
Fast facts: Wednesday April 25, 2001
Allan Pinkerton, founder of the famous detective agency, died in 1884 when he stumbled, bit his own tongue and was killed by the resulting gangrene.
Pluto, the astrological sign for death, was directly above Dallas, Texas when John F. Kennedy was born.
When you tie a noose, the rope is wrapped 12 times around because it's the same length as a person's head.
Each year, 40,000 people die from snake bites.
Adverse reactions to prescription and over-the-counter medicines kill more than 100,000 Americans and seriously injure an additional 2.1 million each year.
Each year, 13 people are killed by vending machines falling on them.