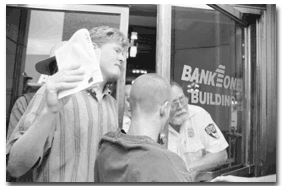 One protester was arrested and at least five were sprayed with pepper spray last night during an anti-globalization demonstration attended by several University of Arizona activists.
With guns drawn, Tucson Police Department officers arrested Daniel Patterson, Green Party candidate for the Arizona Senate, as he left the Bank One building , 2 E. Congress St., where the National Law Center is located.
After a long struggle with security guards who tried to lock out protesters, he and other protesters managed to enter the building.
Patterson was on his way out of the building when TPD officers chased him down the sidewalk, said Judy Altieri, TPD public information officer.
Officers wrestled Patterson to the ground shortly after 5 p.m. One officer attempted to handcuff him and the other tried to keep the crowd away from the officers and Patterson, Altieri said.
Res Life raises grade requirement for RA and CA applicants

Other changes include mandated information sessions and less emphasis on group learning

Students applying to be resident and community assistants for next year will now be required to have higher grade point averages.

Room for success

Jefferson, Pastner learn by living together

Richard Jefferson had a lot of fun off the court last year.

Living with his best friend and teammate, Luke Walton, the sophomore forward lived the ultimate college experience at Jefferson Commons Apartments - parties, pretty girls and plenty of excitement.

It's time to wise up Kappa Sigma

We understand that the Kappa Sigma fraternity wants its pledges to enjoy its first semester and have a good time in the chapter. We also understand that most fraternities and even sororities have a scavenger hunt, or a similar, slightly illicit activity. What's puzzling, though, is that Kappa Sigma wasn't smarter about the way it conducted the activity.

UA lecturer to give public reading of poetry

National Poetry Series award recipient Barbara Cully to

The UA Poetry Center continues its poetry reading series today with a reading from nationally renowned local poet Barbara Cully.
Quotable: Wednesday September 27, 2000
"There are enormous expectations, but we'll see what we've always seen - it's easy to win but hard to govern."
Rudiger Dornbusch, Massachusetts Institute of Technology economist, on Mexico's president-elect Vicente Fox's control of congress
Today in history: Wednesday September 27, 2000
In 1540, in Rome, the Society of Jesus--a Roman Catholic missionary organization--received its charter from Pope Paul III.
In 1938, Queen Elizabeth, consort of King George VI of England and mother to Queen Elizabeth II, visited the Scottish construction site of a massive ocean liner to be named in her honor.