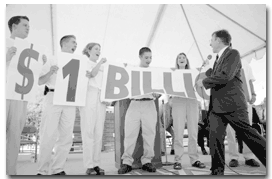 Congress approves $2 million funds for Biotech Institute
After revealing the sign displaying Campaign Arizona's one billion dollar goal, UA President Peter Likins yelled to the crowd "Are you ready to make this happen?"
As hundreds of people waited, the Associated Students' executive board revealed the dollar amount slowly. First they held up a one dollar sign, and Likins convinced everyone the University of Arizona could do better.
"A million? No, a billion dollars," Likins exclaimed as the volunteers and surrounding crowd began to yell.
The goal was not set until 11 a.m. Friday morning, Likins said, and an hour later he announced the goal at Campaign Arizona's kick off.
"It's about you - our students, faculty and staff," Likins said. "We're now ready to move into that public phase."
Campaign Arizona gala pulls out all the stops

UA campus rolls out red carpet for past and potential

While many UA students left campus for the weekend, the surrounding grassy areas along the circle drive in front of Old Main were transformed into a ritzy affair with celebrities, fine dinning and fireworks Friday evening.

Trojans steamrolled by UA

Farmer, Jenkins shine in 31-15 victory against Trojans

It was not supposed to be this easy.

After nearly a week of hype and anticipation, Saturday's meeting between Arizona and No. 18 USC went from a war to a one-sided, anticlimactic beating by the time the first quarter was over.

Tucson City Council is trying to clean up Tucson streets

The Tucson City Council is trying to clean up Tucson streets by moving transients off of the medians and into actual jobs.

At their meeting tomorrow the Council will discuss the option of making it illegal for "hawkers" to sell newspapers on the medians, and for panhandlers and charity volunteers to loiter on them. Councilmember Carol West proposed the plan, and says the measure could help keep these vagrants safe.

UA writer pens book about passion, desires with daughter

Associate creative writing prof, daughter create intimate look at female sexuality

Discussing human sexuality with one's children can be an awkward experience.

Just ask Alison Deming, a UA associate professor of creative writing, who recently published a book about female desires and passion with her daughter, artist Lucinda Bliss.
Quotable: Monday October 9, 2000
"This is shame on everyone who lives in the 20th century."
Omar Shahin, Director of the Islamic Center of Tucson, concerning the fighting between Palestinians and Israelis which has lead to more than 80 deaths and 2,000 injured since Sept. 28.
Today in history: Monday October 9, 2000
In 1635, religious dissident Roger Williams is banished from the Massachusetts Bay Colony by the General Court of Massachusetts.
In 1781, in the last major battle of the Revolutionary War, American and French armies under General George Washington commence a bombardment of the Lord Cornwallis's encircled British forces at Yorktown, Va.