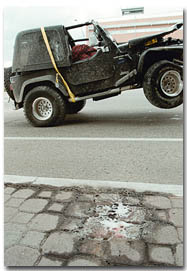 One student ejected, other very agitated following crash
Two cars driven by UA students collided just before 1 p.m. yesterday at East Speedway Boulevard and North Mountain Avenue - ejecting one of the drivers.
However, only minor injuries resulted, said Tucson Police Department Lt. Martin Moreno.
A Jeep Wrangler, eastbound on Speedway Boulevard struck the back, left side of a BMW as it completed a U-turn into the far-right lane of the street.
UA students prepare to cast their ballots

Several nearby locations are conveniently close to campus

Voters will no longer be in suspense after tonight when the outcome of one of the nation's closest presidential races in history is determined.

Pac-10's best takes on SEC's best

Wildcats look for 8th straight victory

In what UA head coach David Rubio is calling a "regional showdown," the Arizona women's volleyball team will host Florida tonight at McKale Center.

Fraternity should accept some responsibility for attack

Break out the soap and pass it on to the boys of Zeta Beta Tau fraternity - apparently, they wash their hands of any part in the mob beating of a random man by possible visitors of their house last week.

Significant others

Exhibit of couples by nationally renowned photographer now at CCP

For many, relationships might pose a threat, a happy addition and generally, a major life change.
Today in History: Tuesday November 7, 2000
In 1637, Anne Hutchinson, the first female religious leader in the American colonies, is banished from the Massachusetts Bay Colony for heresy.
In 1837, in Alton, Illinois, abolitionist printer Elijah P. Lovejoy is shot to death by a mob while trying to protect his printing shop.