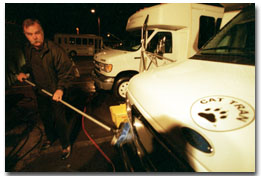 Minutes before the sun rises, hours before his lunch break and a day before tomorrow, Rod Baarstad turns on the red lights of his shuttle and starts a new day.
Slowly cruising through the streets of the University of Arizona campus, he worries about being on time - something he will worry about for the rest of his day.
At 6:30 a.m., Baarstad, a Cat Tran shuttle driver working today on the yellow north express route, pulls up to Lot 9002 on, a UA parking lot at the intersection of East Speedway and North Tucson Boulevards. He is there on time.
"See her, she drives that car and rides with me every morning," Baarstad says as he points his finger to a student coming out of her car, Lora Nelson, a music sophomore.
Through the dawn, Nelson approaches the shuttle, carrying a large trombone case. She sits behind the driver's seat, takes out her trombone and combines the parts of the instrument. Then she places it in her mouth and starts playing it loudly, red light illuminating her facial features.
Five minutes later, across from the Center for Computing and Information Technology building, Nelson gets off the shuttle.
Baarstad continues his ride for 20 minutes until returning to the parking lot. He is on time again, but has 75 more stops to get to. Cat Tran escorts roughly 685 riders a day, 250,000 riders a year. Since the shuttle began in 1987, every ride is free.
Cat Tran drivers want to see improvements

Washing shuttles at dawn, overtime and low wages drawbacks for some drivers

Patricia McMurray, a Cat Tran driver, wants to spend a day without soaked feet.

But that can't happen quite yet, because mornings tend to be slushy at the Cat Tran shuttle compound.

At about 5 a.m. every Tuesday, shuttle drivers have to make their way into the hidden shuttle shelter next to the Student Recreation Center, where they wash their shuttles - and they want student help.

Mackovic signs 18 high school players

Cats fail to sign a JC transfer for first time in 26 years

The blustery wind-storms outside McKale Center yesterday were nothing compared to the whirlwind of excitement running throughout the Arizona football office as UA received 18 letters of intent from prep football players.

New Arizona head coach John Mackovic - who took over for Dick Tomey on Dec. 4 - said he was impressed with the 18 players despite having just two months to put together a solid recruiting class.

Greed Intercepts the Pass

UA President Likins snaps the ball. The field goal is up...it's up...it's going...IT'S GOOD! Dick Tomey wins by 600,000!

It might have been the fault of the kickers, but it was Tomey who got booted off the field at the end of this season.

But, I suppose he can't complain. It seems that over half a million dollars is the going price for the UA not to get called for offsides in the courtroom.

Family Photo Album

Photographer Lorie Novak is flipping through old family photos - only, they are not all her own.

Novak, chair of the department of photography and imaging at New York University, will show two of her exhibits consecutively at the Center for Creative Photography through April 29, including one interactive exhibit that will incorporate the use of collected family photographs.
Fast facts: Thursday February 8, 2001
In the United States there is, on average, three sex change operations per day.
There are approximately 100 million acts of sexual intercourse each day.
Human birth control pills work on gorillas.
A certain musical note can sexually excite cats - the same note when played for kittens makes them want to go to the bathroom.
If disconnected, the sex organs (or gonads) of an armadillo are still active.
The term "scum bag" was originally used early in this century to refer to a condom.
Lipstick was said to have been invented in the Egyptian times for women that specialized in oral sex. They wanted their lips to look more inviting.