NEWS
UA to remember pain, victims of terrorism
Remembrances for the victims of Sept. 11 will be held across campus Wednesday, from a chorale performance of Mozart's Requiem in Centennial Hall at 8:46 a.m. to a moonlight mass at 9:00 p.m. in front of Old Main.
President Peter Likins will address the UA community at noon in front of Old Main and ROTC will make a presentation. [Read article]


More articles...



Now hiring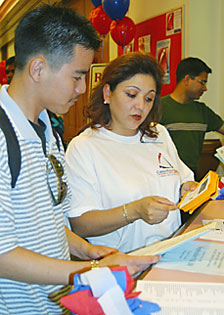 KRISTIN ELVES/Arizona Daily Wildcat

Claudia Arias, receptionist for Career Services, gives advice to regional development senior Dallas Ige about future career opportunities. The Career Week 2002 job festival will run Monday and Tuesday of next week at McKale Center.


THIS WEEK'S
FEATURES
The Ultimate Experience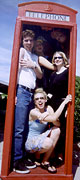 Five-year-old comedy group The Charles Darwin Experience improves with time
Say something funny. Right now. This second. Not too easy, is it?
For the members of The Charles Darwin Experience, an all-student improvisational group that's performed on campus... [Read article]

Two can play improv games
Learn to snort milk out of your nose when Comedy Corner ÷ UA's, and possibly the nation's, longest-running campus comedy group ÷ returns to performing at noon this fall. [Read article]