Tuesday, February 22, 2005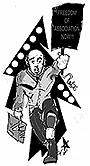 While the UA still allows them, a consortium of 26 law schools has been denying military recruiters access to campus as a response to the military's "don't ask, don't tell" policy toward gays. Should schools be allowed to keep recruiters off campus?
Law schools have right to oppose a government policy without losing funding
Law schools around the country determine who is allowed to recruit on their campuses based on strict anti-discrimination policy under the guidelines of the American Association of Law Schools. These guidelines and bylaws state that professional recruiters at law schools may not engage in hiring discrimination on the basis of race, gender, religion or sexual orientation. Law schools deny access to any employer that would violate this edict. [Read article]

·
Editorial: Mall evangelist takes advantage of free speech
·
Mailbag
Latest Issue: February 22, 2005

Hookah offers safe and relaxing alternatives
College students are always looking for the newest, hippest and easiest trends to keep their bored little minds occupied. While smoking weed will always be fashionable, it's illegal too. As an alternative, locals, young and old, are getting together to smoke the legal way, with the help of the hookah.
The pastime has become even more popular in Tucson since Roger Smiley and his wife Sarah opened Smiley's Ultimate Hookah Lounge and Coffee last year. [Read article]

Latest Issue: February 17, 2005

require('/home/webby/html/papers/98/polls/current.php')?>

showAds('bigbutton')?>




showAds('mediumbutton')?>


showAds('wildlinks')?>