Thursday, March 31, 2005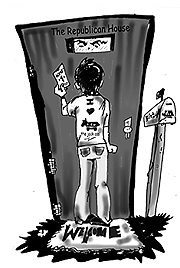 Steven Gerner was prohibited from entering the George W. Bush "town hall" March 21, even though he had a ticket. Gerner, a political science sophomore, was wearing a UA Young Democrats T-shirt and had his ticket taken away when an unknown and now mysterious man spotted him. Twenty minutes later, the person returned to notify Gerner he could not enter the event. Gerner asked if his shirt was causing the problem, and the person told him yes. Gerner responded by offering to change his shirt, yet he was still denied entry. [Read article]

·
Editorial: Thumbs up, thumbs down
·
Mailbag
Latest Issue: March 31, 2005
Mother always said, "Don't play with your food!" If she'd known it could be as entertaining as "Cookin'," she probably would have made an exception.
Having toured more than two dozen countries since its creation in Seoul, Korea in 1997, "Cookin'" is a combination plate of slapstick, percussion, martial arts, dance and loads of fun.
The premise: Four chefs are under the gun to complete a feast for Ms. Lee and Mr. Kim's wedding banquet. Led by Master Chef (Gon Ho Kim), Hot Sauce (Eun Ji Kim), Sexy Food Dude (Byung Joon Park) and Nephew (Sung Joong Byun), the chefs manage to create a wedding cake, bulgoki (Korean BBQ), dumplings and a duck dish in about an hour. [Read article]

·
Tucson and Campus Calendar
·
Sketch and improv group gets new blood
·
Toys for the twisted child inside
Film
·
Sin and the 'City'
·
Are we being 'Punk'd'?
·
Spend some time with the Doog
·
PHilm Festival promotes awareness, addresses health disparities
Music
·
Low hits new high
·
The Dimes coin their own sound
·
CD Reviews: Beck, The Decemberists and Queens of the Stone Age
Literature
·
'Nice Big American Baby' stands up
Latest Issue: March 30, 2005

Land surfing: Longboarders invade the UA
There's nothing new about skateboarding, but the elite few who ride them around Tucson are getting some competition from a new breed of riders.
Longboards, a kind of hybrid cross between a surfboard and a skateboard, have been making a comeback since the 1990s and are slowly, but surely becoming ever more visible on the UA campus.
Though most skateboarders tend to be linked into the high school age group, some veteran skateboarders now attend the UA and even partake of the longboard phenomenon. [Read article]


·
Relocated skate shop helps UA students move along"

showAds('bigbutton')?>






showAds('mediumbutton')?>


showAds('wildlinks')?>