Wednesday, August 3, 2005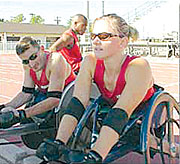 Even though she won this year's Boston Marathon and received gold medals in two different Olympic Games, former UA Adaptive Atheletes phenom Cheri Blauwet considered herself a mediocre athlete prior to attending UA.
Now a third-year medical student at Stanford University, Blauwet came to the UA from a small high school in Iowa and grew up without a great deal of exposure to competitive wheelchair racing.
Once she got to the UA, however, specialized training, intensive team practices with the UA Adaptive Athletics Program and coaching from the likes of former Track and Field head coach Derek Brown led Blauwet to compete and win competitions both nationally and internationally. [Read article]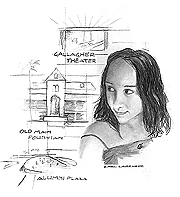 While it's important for new students to know (and older students to remember) the ins and outs of campus life, there's more to see than just the outer surface. After braving the financial aid office, selecting classes, moving more stuff than necessary into new residences and the rest of the university bonanza, it's time to learn the hidden gems that the UA provides.
On the academic spectrum, one of the most important aspects of college (and yet perhaps most tedious) remains the art of studying. Generally, students view the library as the optimal place to spend long hours surrounded by class notes and over-priced books. However, other areas boasting greater scenery and solitude should not be overlooked. Park yourself by Old Main's fountain once the heat wave begins to dissipate. Sit near the theater building in one of the festive, artsy chairs (well, they're statues, but they serve multiple purposes). Stretch out on the Alumni Plaza's grassy knoll, which students flocked to in record droves upon completion last year, especially when certain religious zealots shared their thoughts. Finally, with one of the most enjoyable views on campus, the 4th floor of the Student Union houses tables that remain relatively vacant. [Read article]

·
The end of (summer) vacation
Latest Issue: August 3, 2005

require('/home/webby/html/papers/98/polls/current.php')?>

showAds('bigbutton')?>






showAds('mediumbutton')?>


showAds('wildlinks')?>