August 26, 2005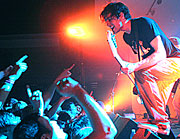 The annual kickoff concert CatFest rocked the UA last night after 1,000 students showed to see Rufio and other bands, doubling last year's attendance.
The event, organized by the University Activities Board and the Associated Students of the University of Arizona, featured punk bands Rufio, The Spill Canvas and Your Name in Lights.
The Student Union Memorial Center Grand Ballroom was crowded with standing students who simply listened, or, for the more enthusiastic fans, danced, crowd-surfed or shouted the cheer "Ru-fi-ooooo!" [Read article]

·
Union's AC breaks, will cost $5,000 to repair
·
Student union fee would help pay off debt
·
Hitching a ride : SafeRide adds shuttle service to airport
·
Student entrepreneur creates dorm shelves
·
Public invited to enjoy snow cones, stars, Mars
·
Most women get top sorority pick
·
Police, court use electronic tickets to cut out mistakes
·
UA offers variety of clubs for students
·
Health college boosted by $1.8M grant
·
On The Spot
·
Fast Facts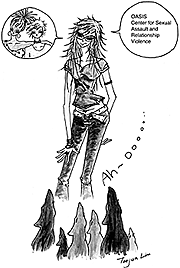 Listen up, girls; here it is: The "How-To" Guide for having fun and staying safe, the rulebook of party conduct, a code of caution and caring.
It is not "ultimate" or "scorching." It is hardly definitive and a far cry from best-selling. Following these few simple steps will not teach you "how to really wow him between the sheets!" or where to find great shoes on a budget. These suggestions do not come with a money-back guarantee, and you may or may not be completely satisfied with the results. [Read article]

·
Commentary: True rewards go to those who stay
·
Mailbag
Latest Issue: August 25, 2005

require('/home/webby/html/papers/98/polls/current.php')?>

showAds('bigbutton')?>






showAds('mediumbutton')?>


showAds('wildlinks')?>