Thursday, November 18, 2004



This past week, Sun Tran, the public bus service that operates in Tucson, announced that ridership increased by 1.7 million over the past two years, putting it over the 15 million mark.
It attributed the rise to an increase in gas prices and immediately called for an increase in government funding to provide better service. It says it needs to offer new routes and operate later hours.
And thus the debate begins.
The call for more funding generates the typical libertarian response. If an activity needs a massive government subsidy just to exist, it is a waste of taxpayer dollars. We should be looking for ways to make bus service less dependent on the government, not more. [Read article]

·
Editorial: Leave attendance out of grading
·
Mailbag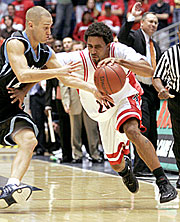 The Arizona men's basketball team dispatched San Diego Tuesday night, but the Wildcats have a lot to improve on before they take on Wright State tonight at 7 in McKale Center in the second round of the National Invitational Tournament. After an impressive performance in the first half, the Wildcats struggled to score and to defend for much of the second half in their 80-69 win over San Diego.
"We had an excellent first half but the second half was terrible," Salim Stoudamire said. [Read article]

·
Women's Hoops: Cats clobbered in WNIT
·
Commentary: Another BCS Sham This Season
·
Staff picks: Rivalry weekend
Latest Issue: November 18, 2004

require('/home/webby/html/papers/98/polls/current.php')?>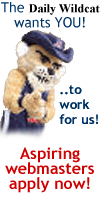 showAds('bigbutton')?>






showAds('mediumbutton')?>


showAds('wildlinks')?>