Tuesday, November 30, 2004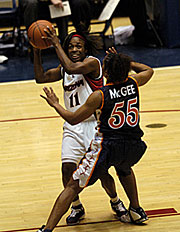 Cats push home win streak to 30
The No. 24 Arizona women's basketball team scored the first 11 points in its game against UTEP last night in McKale Center and never looked back, defeating the Miners 79-47. With the win, Arizona improved to 4-1 on the early season and recorded its 30th consecutive home win.
"We want to make this one of the worst places to come and play in the country," said senior point guard Dee-Dee Wheeler. "We have a great team and we love playing at home. Teams are going to be out to basically break that streak." [Read article]

·
Men's Hoops: Cats back home to face Cowboys
·
UA Sports Roundup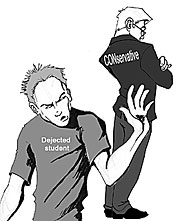 It might have been the thought of so much upcoming turkey and mashed potatoes. Or maybe it was the "mandate" that so many people have been talking about since the election.
But whatever it is, the conservatives in the state of Arizona have been emboldened to test their limits and see how conservative they can make Arizona.
For one, some of the proponents of voter-approved Proposition 200 have decided that they did not like how Arizona Attorney General Terry Goddard interpreted the context of the proposition. In fact, they disliked it so much that they thought they would take the matter into their own hands. [Read article]

·
Editorial: Cats back on track
·
Mailbag
Latest Issue: November 24, 2004

require('/home/webby/html/papers/98/polls/current.php')?>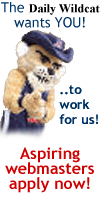 showAds('bigbutton')?>






showAds('mediumbutton')?>


showAds('wildlinks')?>