Tuesday, February 8, 2005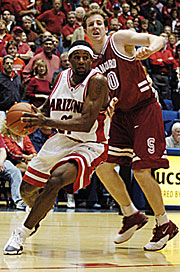 The Wildcats set a team record last season by shooting 78.6 percent from the free-throw line, but they are ready to eclipse that record this year.
Currently Arizona is shooting 78.4 percent from the charity stripe, led by senior guard Salim Stoudamire, who has improved his stroke from 79.5 percent last season to 90.7 percent thus far. All five starters shoot better than 72 percent, with sophomore forward Ivan Radenovic being last in the starting group. Senior center Channing Frye has made drastic improvements in his free-throw shooting from his sophomore year - when he shot only 66.4 percent. He's second on the team at 83.5 percent. [Read article]

·
Canadians infiltrate Gymcats
·
Mens Hoops: Frye would be a good fit in Phoenix
·
Women's golf tied for 9th at SoCal tournament
·
Splashcats making little waves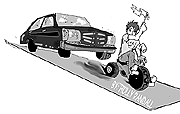 Last month, the Wildcat reported a hit-and-run accident that resulted in the death of Colin Griswold, a UA doctoral student.
While the event brought sadness to the lives of many, it should, more than anything, be a signal that the UA needs to do more to address traffic safety issues.
Traffic accidents and police vehicle stops occur regularly on Speedway Boulevard, Campbell Avenue, Euclid Avenue and Sixth Street, all of which immediately border the University. Orange and white barricades often signal construction on and around those same streets. The combination of foot and bike traffic, construction, busy streets and Tucson motorists is a recipe for an accident. [Read article]

·
Guest Commentary: SHIP serves students well
·
Mailbag
·
Online Mailbag
Latest Issue: February 3, 2005

require('/home/webby/html/papers/98/polls/current.php')?>

showAds('bigbutton')?>





showAds('mediumbutton')?>


showAds('wildlinks')?>