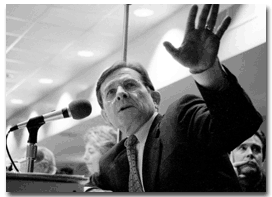 CHIHIRO NAGURA
UA President Peter Likins gives his presentation to the Arizona Board of Regents Friday morning at the Kiewit Auditorium in the Arizona Cancer Center. The regents gathered for the six-hour meeting to discuss Proposition 301 funding, as well as other items.
By Katie Clark
Arizona Daily Wildcat
TAs want registration fees waived
Compensation for graduate teaching and research assistants is not enough to be competitive with other peer institutions, UA Provost George Davis said in a presentation to the Arizona Board of Regents Friday.
Gary Pivo, dean of UA's graduate college, and Davis presented statistics on the reality of UA graduate assistant's workloads and compensation at the ABOR meeting.
UA is in the 54th percentile in the nation when it comes to monetary compensation for the work done by teaching and research assistants, Davis said, adding that if registration fees - which total about $2,350 - were waived, it would bring UA into the 88th percentile.
"UA wishes to compete successfully in the challenging market for graduate teaching," Davis said, adding that current stipends, ranging from $7,000 to $16,000 depending on the department, are not enough to be competitive.
"We're really getting knocked out when we're recruiting students," Pivo said. "We're a very important engine for attracting people."
Pivo also said monetary compensation is a big deciding factor for graduate students when deciding where to go for graduate school.
"Students will look very carefully at the support they will receive," he said.
A typical half-time teaching assistant takes nine credit hours of classes and teaches two undergraduate classes, which adds about 25-30 hours of work per week.
"We absolutely rely on TAs for furthering and fostering teaching at the UA," Davis said.
Davis said an additional estimated $2.5 million is needed to compensate TAs if the fees are waived, and another $2.4 million would be required if the waiver was extended to research assistants. He added that the research assistant's need for waivers is not as great since they are more likely to receive grant money.
Jason Auxier, an optical sciences graduate student and president of UA's Graduate and Professional Student Council, said there are alternatives to giving waivers to teaching and research assistants.
Auxier said TAs and research assistants on the higher end of the salary spectrum could reduce their salary to allow extra money toward waivers, relieving some of the financial-planning burden on the Regents.
"What I'm trying to put on the table is that there is negotiating to be done," Auxier said.
He added that many relocating companies look at universities in the area as a determining factor, and having talented graduate teaching and research assistants - like the ones currently going elsewhere - make a difference.
The regents acknowledged the importance of the issue at the meeting and promised not to ignore it.
About 50 teaching and research assistants from UA, ASU and NAU -many wearing red T-shirts - were at the meeting to take a stand against having to pay registration fees. The Board first heard arguments on the issue at its January meeting.
ABOR did not take action on the issue Friday, but sent the matter to its President's Council for discussion. The council will present a recommendation to the board at its April meeting.