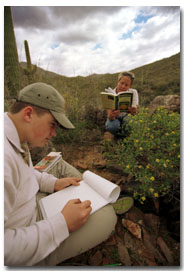 AARON FARNSWORTH
Amphitheater High School student Mark Thompson sketches wildflowers Saturday with Arizona Sonora Desert Museum intern Amy Orchard. Orchard is the first in a program for interns at the museum studying environmental education.
Arizona Daily Wildcat
Arizona Sonora Desert Museum planning program for grad students
Knowledge of the Sonoran Desert is one thing Tucson's environmental education students need to know about, and starting next fall, they can achieve this through an internship at the Arizona Sonora Desert Museum.
"We want to educate the people about the desert - desert animals, desert plants, desert geology. We try to educate people about those things in order to increase appreciation of this natural environment," said volunteer coordinator Caroline Wilson. "Wise stewardship is our really lofty goal."
For many people, stewardship of the desert begins in the museum's education department.
Hundreds of elementary and high school students visit the museum every year on school field trips. To help with the stream of children, the museum's education department has fashioned an internship geared toward university students interested in environmental education.
"We have a need in our department, since there's always a lot of stuff going on, and someone with interest and passion can fill in and take over a lot of that stuff," said education specialist Robin Cropp.
Although Cropp already has the program's first intern, she and Bruce Johnson, UA assistant professor of teaching and teacher education, are "revamping" the environmental education internship - both at the university and the museum levels - in hopes of formally starting the program in the fall semester.
"It's all free-form at this point. We're thinking of having five graduate students a semester, or a year," Cropp said. "We're looking to do this through the U of A so they can get credit for their work. We want to work at the university level because this is a science teaching facility."
Amy Orchard, a Prescott College student, is Cropp's intern.
"I love to teach in a formal or informal environment," said Orchard, who has been working at the museum since January. "There's observation and actual hands-on teaching. After I teach, we sit down and evaluate my teaching."
Co-teaching classes with trained staff educators, studying techniques of the docents and further inspection of desert ecology make up most of Orchard's job description.
"The most interesting thing is working with the live animals," she said. "(The staff members) were trying to teach me how to get a tarantula to walk on my hand. I thought, no sweat - this will be easy. But then it started crawling up my arm, and I couldn't get it off."
Orchard said planning her classes will probably become easier once she's accustomed to teaching.
"It's very well-rounded. They have so much going on here that I can do. I've seen self-guided visits, classes, and next week, I'm going on the school outreach program," she said. "As an intern here, you can tell which program is really drawing your interest, then you can focus on it, because it's easy to generalize in something, but when you specialize, then you can really excel."
Although Orchard does not attend the UA, Cropp said the internship will eventually focus on UA graduate students studying environmental education.
A certain type of personality is required to fill the internship position, added education specialist Joe Hoscheidt.
"We'd really prefer people who are really enthusiastic and really outgoing and have the ability to create a warm and inviting atmosphere when those kids arrive," he said. "(We want) someone with really good communication skills who can reach a variety of audiences, because we have kids who come from kindergarten up through high school."
Hoscheidt, who works with school programs, outreach programs and interpretive training, emphasized the need for interested students.
"It's a lot of fun, it's a neat place to be around, and I think the kids are the key to the future," he said. "When you're working with kids, you're helping to make a difference out there, so it's definitely a worthwhile cause."
While the education internship will target graduate environmental education students, Wilson said there are opportunities for university students in other fields, such as biology, geology and wildlife studies.
The internship will give students the opportunity to develop their skills in the science fields and education classrooms, but it also gives Orchard a more transcending goal.
"I believe I can reach out to a group of kids who I can affect who will have that epiphany, that life-changing moment," she said. "I want to get them motivated about something besides watching TV and playing Nintendo."