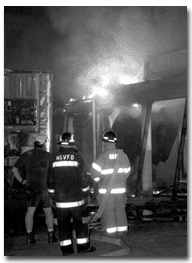 Associated Press
Fire fighters look on as flames erupt from the West Ruffner building on the campus of Longwood College Tuesday, in Farmville, Va. The fire severely damaged the historic Rotunda in Ruffner Hall and several adjoining buildings on campus.
By The Associated Press
FARMVILLE, Va. - Fire forced the evacuation of 400 students from dormitories at Longwood College and heavily damaged a complex of office and classroom buildings, and officials yesterday canceled the term's last three days of classes and next weeks' exams.
No injuries were reported in the fire late Tuesday and the cause was not immediately known.
The most serious damage was to Grainger Hall, West and East Ruffner and the historic Rotunda, a complex of connected buildings that was undergoing a $10 million renovation.
"That whole section went up just like a matchbox," said college spokesman Dennis Sercombe.
As a result of the construction, most of the complex was vacant at the time of the fire, Sercombe said.
"These buildings, they meant everything to our students. They are everything that symbolizes the third-oldest public campus in Virginia," Cormier said.
Four nearby dormitories were evacuated because of the threat of the fire, but they appeared to have suffered only water and smoke damage, said Longwood Media Specialist Judy McReynolds.
The evacuated students will not be allowed to return to their rooms and all students were asked to move out of their dorms by noon Saturday, said school president Patricia Cormier. Classes had been scheduled to end tomorrow. She said a May 12 graduation ceremony will go on as planned.
Longwood, founded as the Farmville Female Seminary in 1839, is a coeducational, state-supported institution about 60 miles west of Richmond. It has an enrollment of 3,900 students, about 2,600 of whom live on campus.