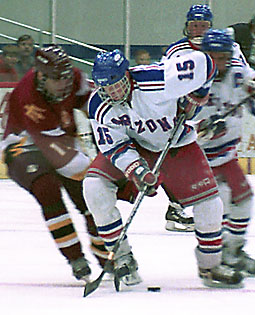 KRISTIN ELVES/Arizona Daily Wildcat

Junior UA center Dave Loftus breaks away from a Sun Devil defender last month against ASU at the Tucson Convention Center. The Icecats went 2-1 at nationals to finish fifth.

By Dan Komyati
Arizona Daily Wildcat
Tuesday Mar. 5, 2002

The Icecats wrapped up their season with a fifth-place finish at the American Collegiate Hockey Association national tournament over the weekend, silencing the pollsters that nearly kept them from advancing to the tournament in the first place.

The finish was the highest UA has placed since 1997, as it skated to a 2-1 record and came just shy of advancing to its ninth ACHA Final Four.

Seeded 11th in the 12-team tournament, the Icecats knocked off No. 2 Delaware 4-3 in overtime Wednesday before dropping a 5-0 decision to national runner-up No. 7 Illinois in the preliminary round.

The Icecats (24-5-1) earned a berth in the fifth-place game Saturday night and dominated No. 6 Eastern Michigan 8-2 to finish the 2001-2002 campaign on a very high note.

"I am as proud of this team as any I've ever coached," said head coach Leo Golembiewski, who completed his 23rd season behind the UA bench. "They left it all on the ice, and to ultimately end up in the Top 5 in the country, you can't help but be happy."

Playing in their 20th consecutive national tourney - the longest current streak in the nation - the Icecats were given little chance to upend Delaware, one of just a handful of teams that had knocked off national champion, Penn State, this season.

In a game in which Golembiewski said his Icecats defined themselves, the veteran leadership of UA pulled through once again, and the program claimed one of its biggest victories in the last decade.

Senior co-captain Kevin Meehan scored first for his Icecats, and sophomore forward Andrew Fredricks continued a stellar second half of the season with a goal and an assist. When junior forward Matt Naylor found the net in overtime, six seniors - as well as the rest of UA's youthful roster - achieved what might have been their greatest moment as Icecats.

"To knock off Delaware was probably the best win (in my career at UA)," senior co-captain Dave Galardini said. "Of course you always want to win (every game), but I think we were just tired (against Illinois) from the big overtime win.

"Overall, I think we played as well as anyone (in the tournament)."

On Thursday, after a tightly contested and physical first 27 minutes, the Fighting Illini broke open a scoreless game in the second period with two goals in 18 seconds. UA managed 33 shots but was unable to find the net, and Illinois advanced to the Final Four where it lost 4-0 to Penn State in the ACHA national championship game.

The Icecats found out late Friday that they would be playing for fifth place the following night.

No. 6 Eastern Michigan stood in their way - the only team other than Penn State to be ranked No. 1 in the ACHA this season.

What played out during that game was something that Golembiewski said made this year's squad much different from those in previous years.

"Icecat teams in the past haven't been motivated enough to win that fifth-place game," Golebiewski said. "This was different, there was a belief in one another. We knew we were better than our No. 11 ranking, and we wanted to do better than last year."

The game itself was not even a contest.

Senior co-captain Kyle Neary, junior center Dave Loftus and Naylor found the net 1:36 apart in the first period to give the Icecats a lead that would never be threatened.

The second period was no different as Neary - who finished the season as UA's leading scorer with 41 goals and 25 assists - added his second tally of the night. Senior Pavel Jandura, who jumped to forward midway through the season after becoming the Icecats' all-time leading scoring defenseman, added his 20th goal of the year and the Icecats were well on way to a their fifth-place finish.

Senior defenseman John Saunders, who Golembiewski said quarterbacked his defensive unit throughout nationals, also scored for the Icecats, as did fellow blueliner junior Bill Pardue.

Kevin Meehan appropriately finished out the scoring for UA, and freshman goalie Bryan Aronchick - described by his coach as the best goalie UA has had in the last decade - completed an outstanding first year in the 8-2 victory.

"To finish 24-5-1 was nothing short of remarkable," Golembiewski said. "They were the type of team that felt they would do it, they said they would do it, and they went out and did it."

While one defeat held his Icecats back from competing for their first national championship since 1985, Golembiewski said he had no resentment over the way the tournament was set up, or the loss to Illinois.

Instead, he was proud that this year at nationals his squad again proved that an underrated Icecats team could compete with anyone in the nation.

"The eight Final Fours should speak for themselves," Golembiewski said. "I don't think our kids always get the recognition they deserve.

"It's not like we play out of the Midwest - we've been doing this out of the freaking Sonoran desert."