Younger players dominate scrimmage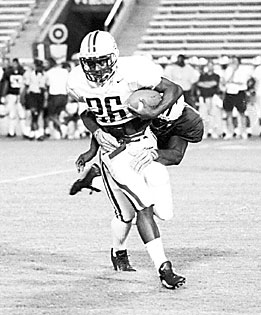 KEVIN KLAUS/Arizona Daily Wildcat

UA freshman tailback Mike Bell tries to avoid a tackle Thursday during a scrimmage game. The Wildcats open the season Saturday against NAU.

By Maxx Wolfson
Arizona Daily Wildcat
Monday August 26, 2002


Maybe it's a coaching strategy by UA head coach John Mackovic or maybe it's a case of tired legs. Whatever the reasoning, veterans barely saw the field in the final football intra-squad scrimmage before the Wildcats opened the 2002 season with Northern Arizona University on Saturday.

"It's good for the young guys to get out here," said UA senior wide receiver Bobby Wade who only saw the field for four plays.

"For the older guys we got enough burn in there in the beginning of camp. The scrimmage was more for the kids to bang around and get some bumps and bruises."

"The young guys are going to be called upon," senior quarterback Jason Johnson said. "Our young guys probably got more reps than in any other camp in America."

However, defensively it was the case of a couple of the veteran players making the big plays.

Senior linebacker Ray Wells had a sack and senior linebacker Lance Briggs led the defense with five tackles.

"This was a bit of a dress rehearsal for us," Mackovic said. "We have to congratulate the defense for creating some turnovers. We have to play defense like that all of the time. Overall, we still have to keep working because we are not there yet."

Johnson completed 5-of-9 passes for 66 yards but may have made a bigger impact when tutoring freshman quarterback Ryan O'Hara on the field for the last hour of the scrimmage. Johnson would stand 20 yards behind the action and O'Hara would ask the quarterback to help him read the defense between plays.

"He was basically helping me out with the formations and the protections," said O'Hara who was 5-of-8 for 63 yards and a touchdown. "That is the job of the quarterback."

"Jason has really taken me under his wing," he continued. "I'm really glad to have him because I don't know too many senior quarterbacks that would take a freshman and try to help him as much as he has tried to help me. I really appreciate that."

Redshirt freshman Nic Costa, who is listed as the No. 2 quarterback on the depth chart, was 8-of-16 for 64 yards and had an interception.

"We still have a ways to go," Johnson said. "We need to focus in on all the details and clean everything up. We need to get a lot of the young guys time to play."

Mackovic stuck with the theme of resting his starters in the backfield by giving junior halfback Clarence Farmer only three carries. Farmer did have 25 yards and a four-yard touchdown in that span.

Redshirt freshmen halfbacks Mike Bell and Gainus Scott carried much of the load on the ground. Bell finished with six carries for 29 yards and Scott added six for 18 yards.

Sophomore tight end Steve Fleming, who was a quarterback in camp last year, led all Wildcat receivers with three receptions for 32 yards.

Senior wide receiver Scott Altick finished the scrimmage with two receptions for 36 yards, including a 13-yard touchdown catch.

The Wildcats had the weekend off and will begin preparing for Saturday's game against NAU today.