Suicidal man ends chase at UA law college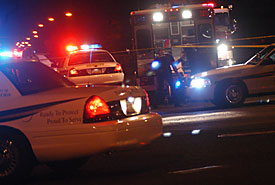 WILL SEBERGER/Arizona Summer Wildcat

Squad cars from Tucson Police Department and the Pima County Sherriff's Office closed the intersection of North Mountain Avenue and East Speedway Boulevard to allow officers to investigate the scene of a suicide Monday night.

By Aaron Mackey
Arizona Summer Wildcat
Wednesday July 2, 2003


A man who led police on a car chase across Tucson killed himself in front of the James E. Rogers College of Law Monday Night after telling police he was suicidal.

Anthony James Russell, 33, got out of his early model beige Grand Am at the northwest corner of East Speedway and North Mountain Avenue, ran to the southeast corner of the Law College and shot himself at least once, ending the cross-town chase, said Pima County Sheriff's Lieutenant Michael O'Connor.
WILL SEBERGER/Arizona Summer Wildcat
A tan Pontiac Grand Am was stopped by the use of a spike strip designed to puncture the vehicle's tires.
Several officers at the scene drew weapons but did not fire, O'Connor said.
The chase ended after a spike strip set at Speedway and Campbell punctured all four of the Grand Am's tires.
Russell was talking with the Sheriff's Office throughout the chase with a cell phone as they tried to convince him to get help for his depression, O'Connor said.
The 45 mph chase started after Pima County Sheriff's deputies were called to Town Country Mobile Estates, 4444 E. Benson Hwy around 9 p.m., responding to a report of a suspicious vehicle, O'Connor said.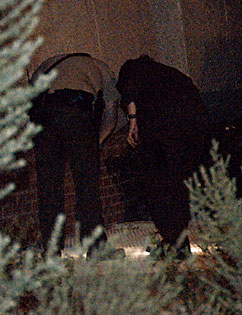 WILL SEBERGER/Arizona Summer Wildcat
Police investigate splattered blood at the scene Monday night outside of the UA College of Law.
After leaving the mobile home park, the man told deputies he was going to Tucson Medical Center at East Grant and North Craycroft roads but didn't stop.
Witnesses said that by the time the chase reached the intersection of East Speedway and North Tucson boulevards, about 17 police cars were tailing the Grand Am. Tucson police helped block all other traffic during the chase.
Pima County Community College student Mike Daugherty was heading eastbound on Speedway when he saw several police cars following the Grand Am by approximately 15 to 25 feet.
"There were a lot of cop cars. It was outrageous," he said.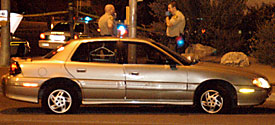 JOSHUA SILLS/Arizona Summer Wildcat
Pima County Sheriff's Officers investigate the scene next to a tan Pontiac Grand Am with flat tires near the northwest corner of East Speedway Boulevard and North Mountain Avenue.
O'Connor said Russell made a phone call earlier in the day from an area convenience store to the Southern Arizona Mental Health Corporation saying that he was going to commit suicide.
O'Connor said that Russell told the health clinic that, "He just couldn't take it anymore."
"For someone that is convinced that this is the best option to them, its extremely difficult, and I don't think there is anything you can say to them," he said.
Something to say? Discuss this on WildChat