Bay Area schools hand 2 losses to UA softball team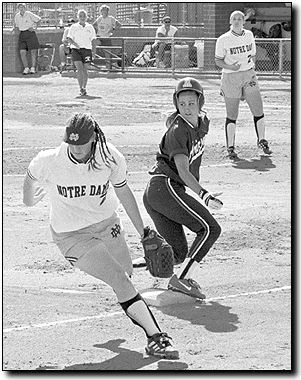 Eric M. Jukelevics
Arizona Daily Wildcat

Freshman pitcher/first base Jennie Finch (right) practices her pitching as pitcher Becky Lemke looks on during practice last Tuesday. The week of April 5, Finch along with sophomore teammate third baseman Toni Mascarenas swept Pacific 10 Conference recognition by earning the Pac-10 pitcher and player of the week.


The UA softball team just didn't have enough to pull off sweeps of the Bay Area schools on its last regular season road trip over the weekend.

"It was a bad trip home," sophomore first baseman Erika Hanson said of the flight to Tucson after two weekend losses at Stanford and California. "It was not very fun. We showed a few spark times when we looked good, but then we had times where we just didn't."

The No. 3-ranked Wildcats (42-12 overall, 14-8 Pacific 10 Conference) began their weekend in Northern California on a positive note, with a 1-0 shutout in 10 innings over the Cal Golden Bears (35-18, 6-13) thanks to a complete game performance from sophomore Becky Lemke (23-6).

"For one game, one of us would be on at the plate or on defense; then the next game, another," Hanson said. "Now, we're just waiting to all be on the same page."

Apparently, UA players weren't on the same page for game No. 2, which saw them lose to Cal 5-1. Bear pitcher Nicole DiSalvio allowed only two hits, while her teammates pounded out three home runs against the Wildcats.

"I think we let up after our first game both times," sophomore center fielder Nicole Giordano said. "We didn't get up for our second game like we needed to."

And history repeated itself the very next day for the Wildcats as they split games with No. 15 Stanford (38-19, 8-14).

"We had a really rough weekend," Giordano said. "I think it kind of helped us learn a lot."

The doubleheader against the Cardinal looked like it was going to start out well for UA, as the Wildcats took an early 2-0 lead on freshman first baseman Jennie Finch's two-run homer. Sophomore catcher Lindsey Collins added to the Wildcat score with a home run in the fourth and Lemke sealed the 3-1 victory, allowing only one run in a tight seventh inning.

But again the Wildcats lost their momentum and fell to the Cardinal 1-0 in game two. It was a battle of the pitchers, as the game remained scoreless until the bottom of the fifth inning when a Cardinal run left Finch (19-6) with the loss.

"We played very well at times," UA head coach Mike Candrea said. "And then my biggest disappointment is the lack of sense of urgency with this team. Sometimes we don't compete as hard as we need to."

Giordano hopes these losses will teach the Wildcats what they need for their final home games.

"It was good for us," she said of the splits. "It's helped us understand what we need to do to win."

The Wildcats will close out their regular season the next two weekends with home doubleheaders against No. 1 UCLA, No. 5 Washington and Arizona State.

"We're frustrated," Hanson said. "But we have to stay positive for our big weekends ahead."

Kate Longworth can be reached at Kate.Longworth@wildcat.arizona.edu.