Wildcats leave offense in Tucson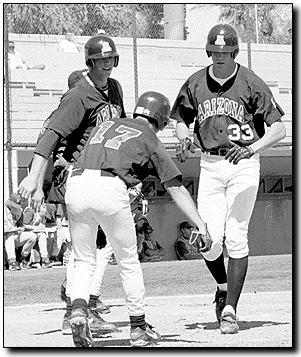 Eric M. Jukelevics
Arizona Daily Wildcat

UA freshman infielder Ben Diggins(33) crosses home plate to be welcomed by his fellow teammates during a game earlier this year. The UA baseball team ends their regular season facing ASU up in Tempe on May 14, 15 and 16.


The Arizona Wildcats traveled up to Berkeley, Calif., with hopes of getting at least two wins before they came home. They did come home Sunday evening, but they were missing a win.

The Wildcats (31-20 overall, 11-10 Pacific 10 Conference) managed to squeak out a victory over the Bears (24-30, 9-12) 6-5 Saturday, but got shutout for the first time in 176 games Friday and almost got blanked again Sunday when they lost 8-2.

"They don't think about that," UA head coach Jerry Stitt said of the 176 game streak where the Wildcats scored at least one run. "I knew it was a couple of years, but we don't pay attention to that. It is one of those things that usually you can squeak out a run or two in the game, but not this time."

The Bears' three starting pitchers, junior Jon Shirley and sophomores Jason Dennis and Ryan Atkinson came into the series with a combined record of 10-18 and an ERA of 5.69.

But, those statistics certainly didn't tell the story of how they pitched this weekend.

Shirley blanked the Wildcats by pitching a complete game three-hitter. He struck out 11 and walked only one while facing 31 batters.

Atkinson pitched 7 1/3 innings giving up two runs and four hits before being taken out and replaced by Jon Cuccias who pitched 1 2/3 innings of shutout relief. Dennis also pitched a complete game Saturday, but he gave up six runs and 10 hits and got the loss.

"For the first thing, they really pitched well. Secondly, we didn't hit well at all," Stitt said. "It was a combination of the two."

Milo may have found his niche

UA junior pitcher Tony Milo came into Saturday's game in the bottom of the ninth with the tying run on third, two outs and Cal sophomore third baseman Xavier Nady, last year's national freshman of the year, at the plate.

After throwing him a few change-ups and fastballs, Milo had two strikes on him and got Nady to line out sharply to UA sophomore third baseman Erik Torres to end the game.

"He has done a good job in that role," Stitt said of Milo's new job as a relief pitcher. "He has had his starts and done okay. He has done a good job no matter where we put him. It is just a matter of him getting in the game."

The Wildcats were winning the game 6-2 at the start of the last inning, but after freshman starter Ben Diggins and junior reliever Mike Meyer combined to give up three runs, Milo was called upon to put out the fire.

It was Milo's fourth save of the season and it preserved a solid outing by Diggins, who picked up his eighth victory of the season by pitching eight innings and striking out eight while giving up three runs on only four hits.