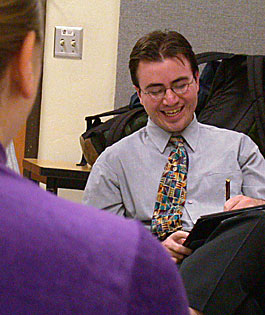 RANDY METCALF/Arizona Daily Wildcat

Communication graduate David Rhea writes down prayer requests at an Ambassadors for Christ meeting last night. Ambassadors for Christ evangelizes just by word of mouth, and members say they have never forced anyone to attend.

By Caitlin Murphy
Arizona Daily Wildcat
Thursday Feb. 14, 2002

Organizations say they stress community, but don't make people uncomfortable

When Timothy Meyers joined Faith Christian Church - a religious organization that used to recruit on the UA campus - he wasn't prepared for the gimmicks.

"I was approached by a couple of guys from Faith Christian Church sitting on a bench who asked me if I had thought about going to church," Meyers said. "I wanted to find a church to belong to, so I decided to go."

But after attending church for a semester, he said he found it wasn't all it had been chalked up to be.

"It got weird, and when they hung out, they split the group in half, making it all guys and all girls," Meyers said. "You could only date people within the church, and when I quit going, they stopped talking to me when they saw me on campus," he added.

Although FCC is no longer on the University of Arizona campus, a number of religious groups that offer a sense of community in return for club benefits still exist and actively recruit on campus.

Campus Crusade for Christ and Ambassadors for Christ, two of the most well-known groups on campus, have been major contenders in the fight against harassment.

Using the basis of building stronger relationships with themselves and God, they sell themselves through the idea of community.

Some clubs draw students in through raffles, offering them a chance to win bicycles and other appealing items. The groups then use the forms to get personal information with which they can contact students.

"I think it's obnoxious," said Christine Haigh, a pre-business sophomore. "I'm the type of person that can't say no to anything, so I always answer the surveys that certain groups pass out - but I am not religious."

Brant Nave, a marketing junior, member of Campus Crusade and host of 7:04, a faith-based weekly meeting, denies that the group has been involved with any wrongdoing when it comes to membership.

"We haven't done anything to make students uncomfortable, but I do recognize that students have complained that other organizations do push that sort of thing," Nave said.

Likewise, Ambassadors for Christ refuses to do anything that might cause a student to feel harassed.

But Nathan Eskue, president of Ambassadors for Christ, agrees there are groups that aren't directed at making students feel welcome.

"A lot of things I have heard about other groups are things like approaching students and then not leaving them alone," Eskue said. "I am not saying that they stalk students, but they have been known to follow them around a lot."

Instead of handing out flyers and hanging out in front of residence halls, Eskue and fellow Ambassadors help promote their organization by setting up a table on the Mall with other clubs and promoting themselves.

Jim Van Arsdel, director of Residence Life, sympathizes with students who feel that religion is being pressed upon them but is quick to acknowledge the rights of campus organizations.

"There is strict limit to what the UA can do," Van Arsdel said. "People cannot be inside a building or residence hall promoting their cause, but as long as the doors are not blocked, there is nothing we can do."

Veda Kowalski, associate dean of students, agrees with Van Arsdel but said there is a distinct difference between Mall activities and public forums.

"There are parts of the Mall that are not regulated by the UA but are regulated by the free speech laws of the Constitution, and there is nothing we can restrict," Kowalski said. "However, informational flyers can be distributed freely as long as they do not interrupt a students normal pathway to their destination," Kowalski added.

While free speech cannot be prohibited, Cmdr. Brian Seastone, spokesperson for the University of Arizona Police Department, cautions that the rules are very clear when it comes to harassment.

"As long as the group does not enter a student's room or personal space uninvited or calls a person 20 times within 10 minutes, there is really nothing that we can do," Seastone said. "However, people are more than welcome to make a report if it makes them more comfortable."