By James Kelley
Arizona Daily Wildcat
Thursday Feb. 14, 2002

A new student-designed CatTran shelter under construction in the center of campus will likely be the first of 25 to be built.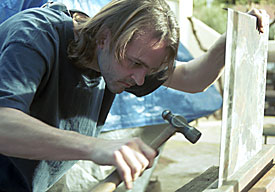 MATT CAPOWSKI/Arizona Daily Wildcat
Architecture senior James Yorek works on a concrete pod fabrication yesterday afternoon at the Fremont metal shop. The fabrication is for the base of a sitting area on a new CatTran shelter in front of the Education building.
Fifth-year architecture students designed a new shelter by the Education building, 1430 E. Second St., for the campus shuttle service. Construction is being funded by Parking and Transportation Services.
"Once the shelter becomes operational, we will review how it is received and if we can build the other 24," said Gary Thomson, PTS associate director.
The architecture students, supervised by Professor Ralph Hammann and Dick Ebeltoft a structural engineer and lecturer in the School of Architecture - submitted nine designs for the shelter.
The winning design, which was created by architecture seniors Jeff Stinnett and Jim Yureck, is composed of two sitting areas with three concrete "pods" that are covered by 10 feet of roofing on each side.
"Jim and I wanted it to be an icon, to be recognizable," Stinnett said.
"We also wanted it to be buildable with our facilities and skill level and we were pretty much successful."
The shelter - which will provide shade, cover during rain storms and lighting at night - will give PTS an identity that makes its stops recognizable as CatTran stops, Hammann said.
"If someone was new to campus, it might be easier to identify a stop," said Emily Posedel, a library sciences graduate student and CatTran rider. "When I first started riding CatTran, I couldn't really tell the stops."
The original shelter was supposed to be done by last December, but delays pushed construction back.
The shelter should be done by the first week of March, Stinnett said.
"It was first-experience building for all of us," Stinnett said. "It was very eye opening on a lot of levels, like with people giving us the runaround; that's why it's not done yet," he said.
The shelter will serve as a prototype for the 24 future shelters.
"The structure is really elegant," Hammann said.
The Education building stop is a "double shelter." These shelters service stops with multiple shuttles, but the majority will be singles, with just one pole and one side, Thomson said.
"I think it will enhance the quality of life on campus for employees and students alike," Thomson said.