Wildcats stunned by Cougars' quick start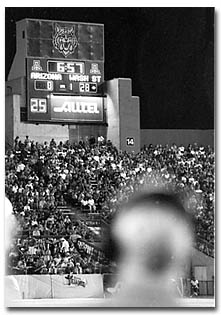 RANDY METCALF/Arizona Daily Wildcat
UA head coach John Mackovic (foreground) looks up at the scoreboard after Washington State scored its fourth unanswered touchdown in the first quarter Saturday night at Arizona Stadium. Arizona would pull to within seven points in the second quarter, but WSU dominated the rest of the game, winning 48-21.
By Maxx Wolfson
---
ARIZONA DAILY WILDCAT
Monday October 1, 2001
After 28 uncontested points in the first seven minutes, WSU routs Arizona
The first seven minutes of the game couldn't have gone any worse for Arizona Saturday night in its Pacific 10 Conference opener against visiting Washington State.
After running only nine plays on offense, UA found itself down by a score of 28-0.
The Wildcats narrowed the deficit to only seven points early in the second quarter at 28-21, but were unable to get any closer, losing 48-21 in front of 42,729 people at Arizona Stadium.
"Washington State had a great game plan early," UA wide receiver Bobby Wade said. "I don't think we were overconfident. We just came out a little flat."
Unlike three of the previous four meetings between the two teams, this game did not go down to the wire - it was pretty much over in the first quarter.
The Cougars, who remain tied atop the conference standings with Stanford, (4-0 overall, 2-0 in the Pac-10) got on the scoreboard early.
UA junior quarterback Jason Johnson was intercepted on the third play of the game by WSU senior free safety Lamont Thompson, who returned it for a 36-yard touchdown. The pick was the first of three on the night thrown by Johnson.
"I've got to take the blame for the slow start because I'm the quarterback," Johnson said. "It was a tough loss, and we've got to hand it to them."
The Wildcat defense was unable to stop the Cougars after that, as WSU scored on its first three possessions.
WSU junior quarterback Jason Gesser controlled the tempo throughout the opening frame.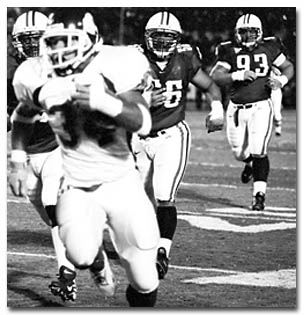 JON HELGASON/Arizona Daily Wildcat
WSU running back Dave Minnich runs away from UA defenders Ray Wells (7), Keoni Fraser (56) and Young Thompson (93) en route to a touchdown Saturday night at Arizona Stadium. Arizona lost its game against WSU 48-21.
Gesser threw touchdown passes of 29 yards and 6 yards, and senior tailback Dave Minnich scored on an 8-yard run to put the Cougars up by 28 points.
"I don't think our team has ever had a quarter like that," WSU head coach Mike Price said. "I can't remember ever scoring 28 points in a quarter before."
After the Cougars' second touchdown, Price pulled a trick out of his sleeve.
The Wildcats were back, ready to receive the ensuing kickoff, when WSU junior kicker Adam Holiday kicked an onside kick that rolled only 10 yards, catching the UA special team players off-guard.
Washington State recovered the football on the UA 48-yard line.
"The onside kick was planned," Price said. "I didn't expect Arizona to react the way that they did. We were able to capitalize on that play."
The Cougars scored three plays later to take a commanding lead.
Gesser finished the night completing 17 of 31 passes for 283 yards and two touchdowns, with one interception.
"Gesser is a really good quarterback, but he is not better than (Johnson)," Wade said. "He threw the ball deep really well to his big receivers. He made it tough on our cornerbacks."
Johnson struggled for the first time in his career during the first quarter. The Puyallup, Wash. native threw all three of his interceptions in the first quarter. In his three previous starts, Johnson has had only one interception.
Johnson finished the night completing 13 of 25 passes for 184 yards and one touchdown.
UA head coach John Mackovic said his quarterback played well despite some poor choices.
"I think he handled himself well, but he just made some throws that were off," an exhausted Mackovic said.
The Wildcats had to nearly abandon the running game as they were playing catch-up for the entire contest. Sophomore running back Clarence Farmer had only 16 carries for the game, and only four after halftime.
"I really wanted to get back in the game," Farmer said. "We really screwed up in the first quarter."
The Cougar rushing defense, ranked No. 1 in the conference, held the Doak Walker Award candidate to only 84 yards, his lowest output of the season.
"We had set out to run the ball a little more last night and we weren't able to do that," Mackovic said. "None of our runs were able to materialize."
It looked as if Arizona was going to be able to come back in the first quarter, when Farmer scored on a 31-yard touchdown run.
On the subsequent possession by Washington State, Gesser was sacked by senior defense end Johnny Jackson, forcing a fumble that senior defensive lineman Austin Uku recovered and ran in for a touchdown to pull the Wildcats to within 14.
The Wildcats then were able to cut the score to 28-21 on a 23-yard touchdown pass from Johnson to junior wide receiver Bobby Wade.
"We started clicking, and we really started to calm down and relax," Wade said.
But it wasn't enough.
The Cougars were in control after that. The Wildcats would not score for the rest of the game.
On one drive in the second quarter, the Cougars had an 18-play drive that lasted for eight minutes - resulting in a 6-yard touchdown run by Minnich. He would finish the night rushing for 121 yards on 30 carries for three touchdowns.
On that drive, WSU converted on five third-down tries.
"When you are playing a team that has been together for so long," UA head coach John Mackovic said about WSU, "nobody should be surprised when they play well.
"Is it going to get harder? I think so."