Tuesday November 27, 2001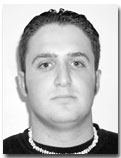 Maxx Wolfson
Holding the title of "No.1 Football Beat Writer" prevents me from expressing my opinion about Arizona's football team because I'm supposed to keep any and all bias out of my writing.
After the season is over, however, it's a different story.
For the second straight season, the Wildcats finished the season with a 5-6 record, one win away from being bowl-eligible for the third straight year.
So here is how my postseason report card looks:
---
Coaching - UA head coach John Mackovic came to Arizona with one goal - to make it to the Rose Bowl. He even decided that once he accomplishes his goal, he will write a book about it. I think it is safe to say that he wasn't expecting to make the Rose Bowl in his first season, but he showed the Arizona faithful what to expect in the future with a strong showing against Arizona State Friday. It will be interesting to see what Mackovic can do with a full recruiting season. He already landed the quarterback of the future in 6-foot-6 Ryan O' Hara (Muir High School, Pasadena, Calif.). I think he learned a lot about his players this season, especially the last two weeks, and I think they learned a lot about him.
Offense
Quarterback - I gave Ortege Jenkins a D last season, so junior Jason Johnson had nowhere to go but up. Johnson was very good at times - throwing four touchdown passes at California - and very bad at times, throwing a interception in the closing minutes of the game against USC that was returned for the winning touchdown. Johnson appears to be the favorite heading into next season, but the job could still be up for grabs. One thing Johnson did show is that he could be the leader on offense. His team stuck behind him at times when he was down on himself.
Running Back - Sophomore Clarence Farmer was the Wildcats' most exciting player all season. He rushed for 1,229 yards and had six 100-yard games. His one downfall was handling his emotions, prompting Mackovic to pull him out of several games, once at the behest of a referee. Mackovic has coached some great backs in his career - the New Orleans Saints' Ricky Williams, the Kansas City Chiefs' Priest Holmes, the Denver Broncos' Howard Griffith and ex-Dallas Cowboys back Tony Dorsett, to name a few - and if Farmer can learn to control his emotions, he will be added to this list of NFL backs.
Leo Mills wasn't the player he was last season, but freshman Tremaine Cox helped fill the void. The backs need to get more involved in the passing attack, as they caught only 22 passes during the year. Fullback Anthony Fulcher should see an increased role next season, replacing senior Mike Detwiler.
It will be interesting next season to see if redshirt freshman Mike Bell will compete with Farmer for carries.
Wide Receivers and Tight Ends - Bobby Wade showcased his talent against ASU, catching 11 balls for 157 yards, and will be a viable All-America candidate next season as Johnson's favorite target once again. Senior Brandon Marshall also made some big catches - a 99-yarder in particular - but also had some big drops. Andrae Thurman should be capable of taking over for the departing Malosi Leonard.
The tight ends played a smaller role than Mackovic would have liked, but some of that was because they were needed for pass protection. The position is wide open for next season.
Offensive line - The offensive line was good at creating holes for Farmer and protecting Johnson at times. The key words there are "at times." The line was healthy for almost the entire season. Steven Grace, who should be a NFL draft pick, will be a huge loss for the Wildcats. Next season, the line will return center Reggie Sampay and tackles Makoa Freitas, Darren Safranek and Brandon Phillips. Freshman Keoki Fraser played solidly in limited time this season and should replace the departed Kevin Barry.
Defense
Defensive line - While the offensive line was mostly in good health, the same can't be said about the defensive front. Nearly every starter was injured at some point in the season, and that's just the start of the problems. The unit's depth took a hit when Keoni Fraser left the team after the second week of the season. Anthony Thomas had a solid season despite nagging injuries. Injuries also kept Eli Wnek, Alex Luna, Fata Avegalio and Austin Uku off the field at times. It would have been nice to see what this group could have done if healthy.
The line will be the area that the Wildcats will look to first when recruiting.
Linebackers - Lance Briggs showed in only his second season as a linebacker why he will be a future NFL first-round draft pick. The junior led the team in tackles with 93 and sacks with six and a half. Every opposing coach focused on containing Briggs, but it did not slow him down. Hopefully he won't follow the lead of the basketball team last season and decide to skip his senior year.
True freshman Kirk Johnson will be a force on defense for anther three seasons, and junior college transfer Ray Wells did an admirable job filling in for injured whip linebacker Joe Siofele.
Secondary - Picking on cornerback Jermaine Chatman seemed to be the game plan of every offensive coordinator. Most quarterbacks shied away from throwing the ball at Michael Jolivette, who tallied five interceptions for the second straight season. Brandon Nash made some big plays, but was also burned on a couple of long passes. Jarvie Worcester was second on the team in tackles, not necessarily a good thing from a safety.
Overall - This team showed signs of promise, but didn't play a full 60 minutes of football until the final contest against ASU.
If the Wildcats can fill in the missing pieces - tight end, cornerback and defensive line - a bowl game will definitely follow.
Mackovic made things more exciting this season in the passing game. Hopefully his pro-style offense will attract recruits to the Old Pueblo.
If he can land key high school prospects, his Rose Bowl book might hit stores in 2004.