Who should take home the Heisman?

Tuesday November 27, 2001

Like most years, this college football season promises to feature a hotly contested race for the Heisman Trophy, given annually to the nation's best collegiate player.

So who should win? Brigham Young's Brandon Doman has been stuck in Mountain West obscurity while leading the nation's highest-scoring offense. David Carr is considered by many to be the best pro prospect in this year's quarterback pool, but Fresno State has fallen off the map since two losses knocked his team out of BCS contention. There's a storm brewing in Florida between two heralded signal-callers - Florida's Rex Grossman and Miami's Ken Dorsey - but one is a sophomore and the other plays on a team better known for its defense. Joey Harrington, "The Comeback Kid," put together another impressive year for Oregon, but fears abound over the viability of a Pacific 10 Conference player winning the award. Finally, Nebraska's golden boy, Eric Crouch, put up the best numbers in the history of a legendary program, but some fear his run-first mentality might hurt him in the age of the vertical offense. The only that's for sure is few agree on who should take home the hardware.
---
Underrated, under-appreciated Doman the country's best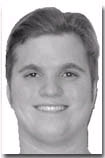 Ryan Finley
By Ryan Finley
The nation's best player doesn't make his home in Florida. He isn't related to any former NFL greats. Hell, he doesn't even play in a half-decent conference.
But BYU's Brandon Doman - the pride of Provo, Utah - is the best quarterback in America and gets my vote for this year's Heisman Trophy.
What has he done this season? Well, he's only thrown for 2,046 yards and 26 touchdowns while tossing just five interceptions. With two games left - winnable contests against Mississippi State and Hawaii, no less - he could add another 12 or 13 touchdowns to that list.
Not bad, considering the so-called front-runners, Miami's Ken Dorsey and Florida's Rex Grossman, have thrown for similar stats while hurling nine and 11 picks, respectively.
His Cougars, Mountain West Conference champs with an 11-0 record, lead the nation with a 49.8 points per game average and rank second nationally with 546.6 yards of total offense per game. His touchdown-to-interception ratio is tops in the country.
Is he the product of a pass-happy system? Sure. After all, BYU practically invented the passing game in the late 1970s with a chuck-and-duck offensive scheme that led the Cougars to a 1984 National Championship.
But BYU greats Robbie Bosco, Steve Young, Jim McMahon and Ty Detmer were more than just program-generated drones. They were some of the nation's best QBs, and "The Domanator" is no different.
He probably doesn't stand a chance of winning the trophy because of his conference affiliation and location (meaning, of course, that he doesn't play on the East Coast), but the NCAA record books - if not the voters - will remember Doman as the ringmaster of the greatest show on earth, college football's version of the St. Louis Rams.
It's just a shame nobody wants to watch.
Ryan Finley is a senior majoring in journalism and can be reached at editor@wildcat.arizona.edu.
---
Carr has everything but respect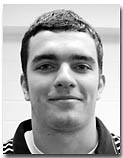 Justin St. Germain
By Justin St.Germain
If David Carr doesn't win the Heisman Trophy, it won't be for lack of talent. He's tall, strong and fast, and he throws one of the prettiest balls in college football. He's projected to be one of the first quarterbacks taken in the upcoming NFL draft.
It won't be because he doesn't have the numbers.
He's thrown 36 touchdown passes this year and passed for almost 4,000 yards - both tops in the nation.
It won't be because he's not a leader.
Carr's Fresno State team beat two ranked teams and Colorado on their way to a 6-0 record and a top-10 ranking - and it wasn't because of the nation's 54th-best defense. Anybody who saw Carr drive the Bulldogs 49 yards in 27 seconds to set up the game-tying field goal against Colorado State and keep Fresno's BCS hopes alive knows he performs in crunch time.
If Carr gets snubbed, it will be for one reason: he plays in the Western Athletic Conference. It's the same reason LaDainian Tomlinson lost to a middle-aged man last year (Chris Weinke), and the same reason the WAC has only one Heisman Trophy winner in the history of the award (Ty Detmer in 1990).
The other top Heisman contenders are also quarterbacks, but they're from marquee programs: Ken Dorsey from Miami, Rex Grossman from Florida and Nebraska's Eric Crouch. Carr has fewer interceptions, more touchdowns and more passing yards than each.
Crouch is a favorite for the award, but Carr has 2,357 more passing yards, three fewer interceptions on 260 more attempts, 18 more touchdowns and an exponentially higher passing efficiency. Carr even led Fresno to a win over current No. 10 Colorado - and we all know how Nebraska and Crouch fared last weekend.
But the Heisman always doesn't go to the best player in football. Isn't that right, Gino Torretta?
Justin St. Germain is a sophomore majoring in English and can be reached at sports@wildcat.arizona.edu.
---
The other Florida quarterback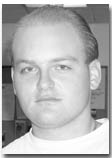 Brian Penso
By Brian Penso
I'm a die-hard Miami Hurricanes fan, and junior quarterback Ken Dorsey is worthy of my Heisman Trophy.
But unfortunately I don't get to vote.
In my eyes, the Heisman should go to the most important person to his team. With that in mind, Florida sophomore quarterback Rex Grossman is my choice for the Heisman.
The No. 2 Gators are led by Grossman, who also leads the nation in pass efficiency. He has completed 226 of 344 passes on the season for 3,534 yards, 32 touchdowns and 11 interceptions.
Many may say that Grossman is the product of a great offensive system that has produced great college quarterbacks such as Danny Wuerffel and Shane Matthews, but the truth is, without Grossman, the Gators would not even be in the BCS picture.
The only thing holding Grossman back is that a sophomore has never won the Heisman Trophy.
In Dorsey's case, Miami is clearly the best team in the nation, and I think Dorsey is the best quarterback as well, but Miami is such a balanced team that it could be a contender without him.
As shown in the Canes' game against Washington last weekend, their defense is the main reason that Miami sits atop the BCS.
Besides defense, Miami has the best offensive line, two-man rushing attack, and tight end in the country, which makes it easy for Dorsey to succeed.
That's why I feel Grossman should win.
Many outsiders look at Florida's loss against Auburn, in which Grossman threw four interceptions, as a negative towards the sophomore's chances at the Heisman, but it was a positive.
Dorsey also had four interceptions against Boston College, but Miami's defense and running game shadowed Dorsey's lackluster performance enough to keep the Hurricanes undefeated.
With a big game against conference rival Tennessee this weekend for a spot in the SEC championship game, a good game by Grossman should make him the first ever sophomore to win the Heisman.
Brian Penso is a junior majoring in business and can be reached at sports@wildcat.arizona.edu.
---
Give it to 'Joey Heisman'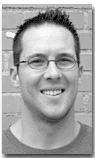 Chris Martin
By Chris Martin
Maybe those Ducks up in Oregon knew something the rest of the country didn't when it plastered a gigantic "Joey Heisman" billboard on a New York City building overlooking Madison Square Garden in August.
The Pac-10 knew Joey Harrington was a top-notch quarterback, but many times what the Pac-10 knows fails to travel east of the Rockies.
With Crouch, the leading candidate for the majority of the season out of the picture after Nebraska's loss to Colorado, Joey Heisman vaulted up the charts and faces a close race from two Florida quarterbacks - the Gators' Rex Grossman and Miami's Ken Dorsey.
Both players are grossly overrated. Grossman plays in the most pass-happy offense in the country, and Dorsey has been sacked a grand total of three times this year. Jason Johnson could contend for the Heisman playing in Steve Spurrier's caffeine-high offense or behind the Hurricanes' line.
While Harrington doesn't have the numbers of Grossman or Dorsey, he has led the best team to the best record in the toughest conference in the country.
His 23 passing touchdowns and seven rushing touchdowns have saved Oregon time and time again as "Captain Comeback" has taken the Ducks from the brink of defeat to the glory of victory four times this season.
Name another quarterback not named Elway or Montana who you would like leading a fourth quarter comeback.
If it weren't for the Ducks' shaky defense, Oregon would be 10-0 and set to battle Miami in the Rose Bowl. I guess the Ducks will have to settle for a rematch with Texas in the Fiesta Bowl instead.
Harrington is a winner any way you look at it, and hopefully a biased East Coast media will realize the true star of the college football season resides up in rainy Eugene, Ore.
Chris Martin is a senior majoring in journalism and can be reached at sports@wildcat.arizona.edu.
---
No pitchman necessary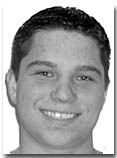 Connor Doyle
By Connor Doyle
There are two truths in college football that I hold near and dear to my heart: The Pac-10 is the best conference in the country and the option is the reason why college is better than the pros. Since there isn't a good option quarterback in the Pac-10, the Heisman Trophy should go to Eric Crouch.
I can already hear it - he had a terrible game against Oklahoma and the Huskers lost to an inferior team in Colorado Friday. However, no one had a good game against Oklahoma this year and the loss to Colorado was not Crouch's fault. The 17-foot holes in the Nebraska defense takes the blame for that ass-kicking. Against the Buffs, he broke a school record with 360 yards of total offense and ran for two scores. That's ridiculous. What's more ridiculous is that Crouch has put up numbers like that all season, with the notable exception of the Oklahoma game.
There isn't a player in the country who has taken more of a beating this season than Crouch. However, he hasn't missed a snap all season and has consistently put up numbers that defy logic. He's the greatest option quarterback - statistically - that has ever played at Nebraska, if not in college football. He holds the NCAA career record for rushing touchdowns by a quarterback with 59. He's one of only three quarterbacks in the history of the game to rush for more than 3,000 yards and pass for more than 4,000 yards in a career. He is, without a doubt, the player most integral to his team's success in the country.
And to top it all off, he's probably the only quarterback being considered who's ever actually used the Heisman-esque stiff-arm is a game.
Yeah, I hate Nebraska too, but this guy's the ticket.
Connor Doyle is a senior majoring in journalism and can be reached at sports@wildcat.arizona.edu.