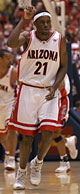 The Returners
With the end of the 2002-2003 men's basketball season still fresh, it's never too early to look ahead to next season. Here is a preview of the future of Arizona basketball...
Hassan Adams
G/F 6-4 201 So. Los Angeles
After a great start to his UA career, Adams hit a lull halfway through it. He was named the MVP of the Fiesta Bowl Classic, but his numbers steadily declined after that. He is one of the most athletic players to ever play for Arizona and can be one of the most versatile. He can play either guard or forward next season, leaving him many options. He will still have to fight for playing time and a starting bid. [Read article]



Golf tees off in Tempe at PING
The Arizona women's golf team will tee it up in Tempe tomorrow for its final regular season event as they hope to play spoiler at the PING/ASU Invitational.
After starting the year with a win and rolling through the fall schedule, a disappointing spring season so far has dropped the once top-ranked Wildcats to seventh in the Golfweek/Sagarin Performance Index.
"All the Pac-10 teams are going to be there," head coach Greg Allen said. "We haven't played well this spring, and I hope to go and build some momentum before the post-season begins." [Read article]



UA Sports Roundup
Gardner chosen for Wooden list
The Wooden Award Committee announced Tuesday that Arizona men's basketball player Jason Gardner has been selected to the John R. Wooden Award All-America team.
Gardner made the prestigious list of 10 players following voting by more that 1,000 media members and college basketball experts. The senior from Indianapolis, who earlier was named All-America by the United States Basketball Writers Association and National Association of Basketball Coaches, is joined on the Wooden All-America team by Nick Collison (F, Kansas), T.J. Ford (G, Texas), Kirk Hinrich (G, Kansas), Josh Howard (F, Wake Forest), Brandin Knight (G, Pittsburgh), Emeka Okafor (F/C, Connecticut), Hollis Price (G, Oklahoma), Dwayne Wade (G, Marquette), and David West (F, Xavier). [Read article]