Calendar
Upcoming films, music, concerts and events!



Sculpting Passion
It is not a normal scene in Tucson when the coffee guru and his cart get attacked by words while discussing rational darts and the penetrated test pilots of clouds beyond regard; but it is when talking about Pop Science Theater. But the Mat Bevel Institute always deviates from normalcy, even in theater. The Surrealistic Pop Science Theater is performing "Love Lab" throughout April, and if all goes well, audiences will demand that "high art" be the new standard. [Read article]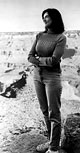 Popular author to read for peace
After almost three years' absence from the local scene, acclaimed author Barbara Kingsolver will reemerge tonight and read at the Loft Cinema, 3233 E. Speedway Blvd., from her latest work. The event is a benefit for the Tucson Peace Center, and is Kingsolver's first local appearance since 2000.
Sponsored by both Antigone Books and Reader's Oasis, the benefit begins at 7 p.m. and will consist of Kingsolver reading from her collection of essays titled "Small Wonder." Afterward, she will take questions and sign copies. [Read article]




Q&A with Ladies and Gentlemen
Local band Ladies and Gentlemen cannot be categorized. The group doesn't play punk music and it doesn't play hardcore music. It isn't a "garage band," and pop and jazz are not its specialty either. It's been placed in the nerd rock family or with the rock-and-rollers. But band members just like to call themselves comfortable and unique.
The 3-year-old group consists of guitarist and vocalist Alex "The Kid" Porter, drummer Dave Williams, guitarist Clay Letson and bassist Garth Bryson. They are currently signed with local label Stunning Tonto and are talking with interested parties from No Name Records about expanding. They have recorded one full album, titled Incorporated, and are in the process of recording a new EP. [Read article]



English Professor Talks about Film
Teaching may be an understatement of what English professor Susan White does. Her popular course, Literature and Film, offered through the English department, has become her signature. Though she leaves the spotlight on the course's screening days, when it comes down to it, she manages to steal the show with her wit and knowledge.
WILDCAT: Your film class is one of the most talked-about classes on campus. Why do you think that is? [Read article]



╬Anger management': We hate it, you'll love it
Betancourt: During the movie, I kept trying to come up with a way to explain why Utz and I were the only people in the theater not laughing. At the end, we looked behind us at the sea of faces. The shine of the end credits lit up their lingering smiles and the late chuckles faded as a happy, opiate darkness descended on them all. Utz and I were catatonic. "Oh Jesus," we said, "thank God it's over." [Read article]



Skip the red tag, officer
Remember Officer Friendly? In case your elementary school didn't participate in that program, let me explain. Officer Friendly was a police man or woman who would stand tall and proud in his/her blue uniform, towering over a second-grade class that deferentially gazed at this noble giant, granting the officer near-celebrity status. Officer Friendly warned us of the dangers in taking candy from strangers and the perils of jaywalking. [Read article]





showads('bigbutton'); ?>

showads('mediumbutton'); ?>