From Belize to freeze to over 100 degrees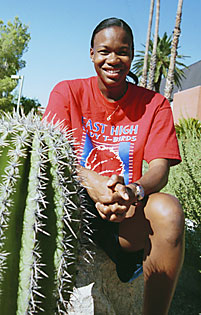 DEREKH FROUDE/Arizona Daily Wildcat

Wildcat freshman guard Natalie Jones poses behind a cactus outside McKale Center. The well-traveled freshman called Central America and Alaska home before coming to Tucson to become a Wildcat.

By Jeff Lund
Arizona Daily Wildcat
Tuesday October 8, 2002


Hailing from Central America and honing her skills in Alaska, UA freshman Natalie Jones took the scenic route to Tucson

We have all been told no question is a dumb question, and although many are fired in the direction of Alaskan Natalie Jones because of where she lives, Jones says she doesn't mind.

Even when the questions get outrageous.

"I've been asked if there is a hotel made out of ice," Jones said. "The football team asks me the weirdest questions. They ask me if I ride a dog sled. They ask me about the daylight."

To address the cold issue, Jones said it doesn't get all that cold in the Last Frontier, and even gets hot at times during the summer.

For what it's worth, Ft. Yukon reached 100 degrees in 1915.

Cold is cold to Jones, and the coldest was well below zero ¸ but after a certain point, it doesn't really matter, she said.

Jones is from a state that has as many misconceptions as it does square miles. Well, probably not, considering her home state of Alaska is 586,412 square miles, has over three million lakes, and stretches into three of the Earth's four hemispheres.

It's huge.

As if people didn't have enough reason to inquire about Jones, there is her place of birth ÷÷ Belize City, Belize.

"I get more questions about Alaska," Jones said. "I moved to Alaska when I was four because my dad passed away. Not really sure why my mom chose Alaska, but we had some relatives there."

She left Belize at a difficult time for the family, though Jones was too young to remember the circumstances surrounding her father's death.

"My father was a soccer player from Belize, and people were jealous of him," she said. "I really don't know all the details. I do want to go back to Belize, but the tickets are ridiculous."

Jones said the most frequently asked question about her coming from Belize is whether or not her green card is, in fact, green.

Jones, though living in Alaska since her move from Central America, only became an American citizen recently.

"(My family) became U.S. citizens a few months ago," Jones said. "I had to before I turned 18."

Despite this, Alaska is still the main topic of discussion for the 5-foot-10 guard who will make her debut for the Arizona women's basketball team this fall.

While Alaska is known more for its beauty, snow and size, there are a few things that Jones says should be cleared up.

Yes, Alaska has its share of snow and ice (over 100,000 glaciers covering 29,000 square miles ÷÷ five percent of the states total land mass), but that has nothing to do with what happens inside the gym. And though the weather might be a little chilly from time to time, there is nothing cold about Jones' game.

She was the Player of the Year for the state of Alaska last season and led her squad to its third-straight state title.

However, there were six games she didn't start last year.

Frostbite? Hardly.

After crashing into the bleachers during a game, she had to sit out a few games with a severely bruised knee.

That was good news for West High School, which played the Jones-less East team ÷÷ the same school where former Duke star Trajan Langdon prepped.

West still lost, but it wasn't as bad as the 81-8 beating they received earlier in the season when Jones was in the lineup.

"I felt sorry for the other team," Jones said. "I let the point guard I was guarding by me just to see if she would score. Before we have swept them by like 50 points, but that game was really boring."

Oh, and that 73-point win came on the heels of a road trip in California from which Jones and her teammates didn't return until 1 a.m. the morning of the game.

Rather than a school bus, Jones did most of her traveling via Alaska Airlines.

In Alaska, the only roads consistently used in travel are the ones to the airport.

That's fine with Jones.

Heading south to play Juneau High School, and summer basketball team camp means frequent flyer miles ÷÷ and a lot of them.

Note: You need 20,000 miles to get a free round-trip ticket wherever Alaska Airlines flies.

"Since my eighth-grade year I have gotten a few free tickets," Jones said, smiling. "At the beginning of my eighth grade year, the coach had us apply for Delta and Alaska (frequent flyer cards)."

When the season starts, the traveling will resume for Jones.

As for the transition from high school hoops star to college freshman, things are going just fine, she said.

"I came here in the summer and took classes," she said. "Adjusting to school isn't really big for me because I went to summer school."

As the transition continues, one can bet the inquires into her previous residences will continue to roll in, and no matter what the question, Jones will happily reply.

And by the way, Jones' green card really is green, she said.