Wildcats expecting Ībarnburner' Sat.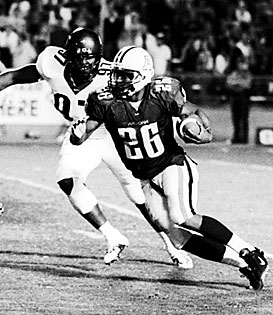 KEVIN KLAUS/Arizona Daily Wildcat

With an injury to Clarence Farmer, the rushing load has fallen on freshman tailback Mike Bell (above). Bell rushed 21 times for 54 yards Saturday against Oregon.

By Charles Renning
Arizona Daily Wildcat
Tuesday October 8, 2002


When the Arizona football team travels up to Washington this weekend, it will be looking to avoid starting 0-2 in the Pacific 10 Conference for the second-straight year.

According to head coach John Mackovic, if Arizona has any chance of competing for the Pac-10 title, this is a game that they must win.

"If you want to be in the race, you have to win that second week," Mackovic said. "You can't afford to lose two in a row."

UA senior quarterback Jason Johnson agreed.

"We can't fall behind," he said. "I don't think that (having lost the first conference game) puts added pressure on us, but it definitely makes you more focused on how important winning this game is."

Last season, UA opened conference play with five consecutive losses, including a 31-28 heartbreaker in Washington.

Arizona took a 28-21 lead into the final five minutes of the game, but surrendered 14 points in the closing minutes, including the go-ahead score with 13 seconds left.

"It was one of our better efforts of the whole year," Mackovic said. "It was at that point we started playing our best football."

"Every year that we go up (to Washington) it is a barnburner," Johnson said. "I look for a lot of the same this year."
---
With the news coming yesterday that junior halfback Clarence Farmer will be out for the season with cartilage damage in his knee, the majority of the rushing game will lay on the shoulders of redshirt freshman Mike Bell.
Bell ran for 54 yards on 21 carries in his first collegiate start. Bell wasn't really pleased with his effort but assured everyone that he would get better.
"I know I can run better than that, and I know I will run better than that," Bell said. "I expect more out of myself."
Bell said that he made a lot of mistakes in the Oregon game that he attributed to inexperience, but that he expects to correct them by Saturday.
"I know he can get a whole lot better with every game," Johnson said.
---
Another big part of the rushing game is the offensive line.
At the beginning of the year, it looked as though the Wildcats would have much of their offensive line back from the 2001 season. However, due to injuries, many newcomers have had to step in and play.
"I knew it was an area we would have to shore up (this season)," Mackovic said. "It has been difficult for us to have the same lineup week in and week out."
Senior offensive tackle Darren Safranek went down three days into practice and has missed every game this season, leaving a big hole at the tackle position.
Three other linemen have also missed time throughout the first five games.
Sophomore Keoki Fraiser and senior Makoa Freitas have both missed one game and freshman John Parada has missed three.
Because of the lack of depth at the offensive line position, the everyday toll of practice is wearing on the players.
"It's always difficult for those guys to get any rest. They don't take a play off," said Mackovic. "They are all banged up a little bit, too, but they gut it out."
---
In his first collegiate start of the season, freshman linebacker Spencer Larson stepped in and made a big impact on the Wildcats' defense.
"He's a collision player," Mackovic said. "Every time we put him in, he plays hard and he makes tackles."
Larson, a native of Gilbert, had eight tackles in the Wildcats' 31-14 loss to Oregon on Saturday. That number was almost triple the number of tackles that he had in the previous four games. Of Larson's eight tackles, two were for a loss, including his first collegiate sack.
---
Junior kicker Bobby Gill kicked both extra points in the loss to Oregon Saturday, but Mackovic said he is not ready to pick a kicker yet for the Washington game.
Because of the restriction on the number of players that can travel, Mackovic could make a decision by midweek. For Pac-10 games on the road, teams can only bring 60 players.