Prep star to announce college decision today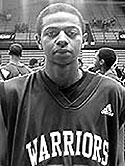 Photo courtesy of rivals.com

By Staff Reports
Arizona Daily Wildcat
Tuesday October 8, 2002


High school senior Mustafa Shakur is expected to make his verbal commitment to a university to play basketball sometime today during a press conference at his high school.

Arizona ÷ along with North Carolina State, Virginia, Connecticut, Syracuse, Temple, Maryland, Pittsburgh, Seton Hall and Villanova ÷ has been heavily recruting Shakur.

Reports say Arizona is the favorite to sign the nation's top point-guard prospect.

He wanted to make sure that UA head coach Lute Olson would be back from Italy, where he was attending his son's wedding, before he made an announcement.

The 6-foot-3 guard averaged 18.8 points, six rebounds and four assists per game last season as a junior at Philadelphia Friends Central High School in Pennsylvania.

Shakur was named as one of the finalists for the USA Basketball Men's Junior World Team.

Should Shakur decide to verbally commit to be a Wildcat, it would be the second high-profile signing in a week for Olson's squad.

Ndudi Ebi, the nation's second-ranked player, verbally committed to UA last week.