Spinning a Revolution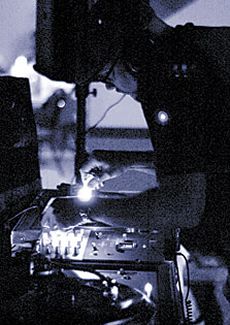 Photos by JON HELGASON/Arizona Daily Wildcat

DJs Jcat (Johnny Birkinbine) of AZsession and guest Manic One (Troy Allen) perform live Wednesday at a monthly jam session at Eric's Fine Foods and Ice Cream. AZsessions' next live event is at the same location on Nov. 6 at 9 p.m. The musicians also gather at founder Trevor Ellerman's house all other Wednesdays to record a jam session, which is then broadcast over the Internet via the group's Web site, http://azsessions.com.

By Kevin Smith & Jessica Suarez
Arizona Daily Wildcat
Tuesday October 8, 2002


Modern technology and old-fashioned cooperation has allowed a local group of students, musicians, computer programmers and graphic designers to take electronic music out of the shadows and into the spotlight.

Electronic music almost seems synonymous with the phrase "solo project." The vast number of sub-genres under the category of "electronic music" are full of musicians who work alone, one-word-named DJs and musicians who seem to function best when they work by themselves.

But a collective born out of a UA-related club is trying to make electronic music in a way not many are familiar with. With its members' skills in computer programming, DJ-ing, graphic designing and making music, AZsessions hopes to make electronic music a collaborative effort between musicians in Tucson and around the world.

AZsessions is a musical collective created in late 2001 by UA assistant administrator for computer engineering Trevor Ellerman. The group also consists of Scott Gustafson, Daniel Taylor, Johnny Birkinbine (Jcat) and Matt Lee. The members are computer programmers, architects, graphic designers and musicians. Lee, a psychology junior, joined AZsessions after the project arose from a student club.

"I'm the president of a student organization called HACKS (the Hardware and Computing Knowledge Society). Trevor is a former president and is now the staff advisor. For HACKS, we do computer-related projects," Lee said. "Trevor came up with the idea of an Internet streaming radio broadcast as a HACKS project. He started talking to electronic musicians and DJs, and the whole thing mushroomed from there."

The group began to grow as more people showed up at events and began to collaborate.

"It's basically a crew of five people who get together and we plan events and we have a Web site and we do whatever we can to help promote the local music scene to the world," Ellerman said.

AZsessions works in two different aspects of delivering live and local music. First, the collective puts on a live show on the first Wednesday of every month at Eric's Fine Foods and Ice Cream in Tucson. The gigs mainly consist of electronic music and try to utilize every aspect of it to help perform the music live.

Local musicians bring in keyboards, drum machines, synthesizers, effects processors, laptops, drum kits, strings and vocals to try and create a live experience.

"Most of the music on AZsessions is electronic-focused. That means that while it may be supplemented with other instruments," Lee said, "It comes down to ╬electronica' or ╬techno' type music. The exact genres vary widely, from deep house, to ambient, to drum and bass, to trance."

"Pretty much everything you can think of that is related to electronic music," Ellerman said. "We make it live."

Secondly, all other Wednesdays of the month, musicians play in Ellerman's house and the live electronic jam session created is broadcast over the Internet via their Web site at azsessions.com. The group's Web site aids in promoting events, local musicians, and carrying the live streams.

Streaming music over the Internet has become a hot topic for record labels and the U.S. Congress, both of which are trying to better control what music Internet users can stream and download. This has changed AZsessions' focus somewhat. Lee says the group is trying harder to promote local artists and musicians. Gustafson also sees live, local music as the group's priority.

"We are at the threshold of a major paradigm shift in the music industry. The tools of production and recording are coming down in price, allowing more people to write their own music, and the Internet makes it much easier to hear what other people are doing, and the quality of the music rises because of this cross-pollination," Gustafson said.

Defining Techno

Here is a quick guide to a few of the genres and sub-genres of electronic music, with a disclaimer that not everything fits into an arbitrary description.

House ¸ Music with a very solid danceable beat in 4/4 time with a deep bass drum and high hats. Usually repetitive, and mostly played for the sole purpose of getting people to dance. Deep house is similar, but has stronger beats and bass to it.

Ambient ¸ Not as danceable, with less structure than the other sub-genres. Ambient creates an atmosphere that is usually more about chilling out.

Trance ¸ Mostly played for dancing, it features house or ambient-type beats where the music builds up and dies out repeatedly.

Break beat ¸ Disco and funk beats that are cut apart by musicians and put back together. "Break" refers to distinctive beat, which stops and starts repeatedly.

Drum and bass ¸ Break beats sped up with very low bass lines. Not as repetitive as the other genres and a little more aggressive, as well.

"The music industry has determined that we cannot play the music of copyrighted artists and distribute it online with the DJ sets we used to do. That's fine, we've found a whole crop of local artists who are writing top notch tunes for their genre, and we're happy to hear it."

Still, AZsessions, finds their Internet broadcasts "vital."

"We have regular listeners from Japan and Germany" Ellerman said.

"We're huge in Macedonia," Gustafson added.

This global reach has lead to local musicians getting signed by labels in California, getting gigs in places like Amsterdam and has led to collaborations with people in countries as far off as Germany.

The inspiration for AZsessions came to Ellerman from the local Tucson music scene.

"I really liked the music I was hearing around town and wanted to share (it) with the world," Ellerman said. "So I started this strange weekly broadcast from my living room with the focus of promoting the Arizona ╬scene.' Everything has evolved from there."

Ellerman stresses that the collective is not about self-centered promotion.

"It's really not focused around our music or us," Ellerman said. "We're just trying to help promote the local music. We pretty much just book people who want to play. Anybody who is in Tucson and that is into electronic music we want to hear from and see how we can help them. We think there is a lot of talent here that the world needs to hear about."

Ellerman described the group of people involved in AZsessions as "amazing."

"The great thing about this crew is we don't do it for money or fame," Ellerman said. "We all do it because we love the area and we love music."

Gustafson agreed that getting crowds for the sake of making cash doesn't influence the group at all. He sees AZsessions as an opportunity for "bedroom," or home producers who haven't had too many opportunities, to play out and refine their craft.

"We are always looking to make the live events more exciting and increase the number of people who are attending. We are a non-profit organization, so we aren't interested in increasing the head count at the door just to fill our pockets," Gustafson said.

"We don't have a problem with other people charging for their events, it just isn't what we are doing."

Birkinbine, who spins drum and bass as Jcat, wants the collective to help out the greater cause of showcasing the local music scene to the global audience.

"AZsessions is a conduit," Birkinbine said, "Promoting our local (and statewide) electronic music scene to wider audiences ¸ digital distribution and live shows increase the exposure of our wide array of talented artists and producers."

Lee sees AZsessions as a chance for electronic musicians to experiment with other musicians.

"We encourage all types of musicians to come and play for us. One of the plans we have for the future is to encourage more live jam sessions, where different musicians will just come over and hang out and play, and see what sounds good," he said.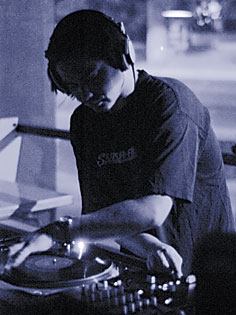 JON HELGASON/Arizona Daily Wildcat
DJ Johnny Birkinbine (Jcat), a member of of AZsessions, manipulates records on his turntables to keep the music going without interruption. The group hopes to encourage more live jam sessions in the future, in which many different musicians would be encouraged to contribute.
AZsessions' members say future plans for the group may include club nights or larger parties. Definitely in the future is another AZsessions "company picnic" and a winter formal. The group is also in contact with musicians around the world and is working on releasing records overseas, as well as other collaborative projects.
Members hope to not only spread the culture of electronic music, but to create something that lasts, as well.
"I think what we are doing is important as far as bringing more culturally significant life to this city," said Gustafson,
"Culture is a living artifact, and music is a very large part of culture."