Beer drinkers unite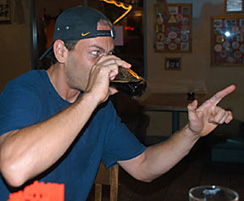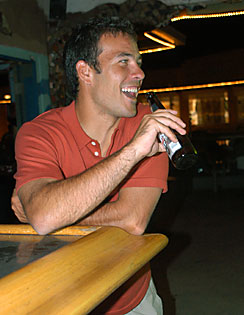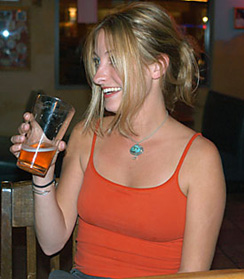 KEVIN KLAUS/Arizona Daily Wildcat

Psychology junior Brian Jordan (top), former graduate student Sanford Smith (middle) and psychology masters student Sarah Pollica (bottom) enjoy various beers Tuesday at Gentle Ben's Brewery, 865 E. University Blvd. Gentle ben's is one of many Tucson breweries who will be offering up ales, stouts and more on Saturday at the Great Tucson Beer Festival. The festival runs from 5 p.m. to 9 p.m., with last pour at 8:30 p.m., at Tucson Electric Park.

By Paul Iiams
Arizona Daily Wildcat
Thursday October 10, 2002


The Great Tucson Beer Festival taps local brewers at beer lovers' paradise Saturday night

RedCat Amber. Old Monkeyshine Ale. Countdown Honey Brown. If these ring a bell, or perhaps make you salivate and start mumbling, "Mmm, beer," then the Great Tucson Beer Festival may just be your key to nirvana.

Featuring more types of beer than even Homer Simpson could possibly drink, the festival will be taking over Tucson Electric Park on Saturday.

Local breweries such as Gentle Ben's, Thunder Canyon and Nimbus will be involved in the festival. The breweries will be featuring some award-winning beers that will make your normal Coors Light seem like CAP water in comparison.

"We will be bringing six different types of beer," said Jim Counts, managing partner of Nimbus Brewing Co. "We won a silver medal at the World Beer Championships for the (Palo Verde) Pale Ale. We also won a silver for the English Stout, which we call The Old Monkeyshine."

The festival will benefit Sun Sounds of Arizona, a non-profit organization that helps individuals who are blind or otherwise visually impaired by reading newspapers and other current print information over FM radio station, 92.9 KOYT.

"Listeners are tuned in on a sub-carrier authorization receiver provided free of charge to anyone eligible," said Mary Young, director of Festivals for the Sun Sounds Foundation. "We have roughly 31,000 listeners in Arizona."

What that means is you can drink to your heart's content and feel good about it because it's for charity. And you don't have to limit yourself to one particular type of beer, either. The festival will feature 65 breweries and over 250 different types of beer. If the event is anything like last year, people will enjoy beer to the fullest.

"Last year was kind of a mess," said Dennis Arnold, brew master and owner of Gentle Ben's Brewery. "By the end, everybody was out of beer."

But Arnold made sure to add that this year, everybody would be more than prepared.
---
So many beers, so little time ·

There are over 250 different types of beer being served at the Festival. With such a wide variety of beverages, you could expand your beer drinking horizons exponentially. What follows is a list of 20 beers for you to find. Call it a scavenger hunt and play with your friends. You decide what the prize for winning will be.

STOUT ÷ An almost black brew made by top fermentation. Stout is best served at room temperature.

· Milk Stout Sweet Stout
· MacBlanes Oatmeal Stout

ALE ÷ Made by a quick, warm fermentation process, with a variety of yeasts. There are many types of ale, from the lighter colored pale to the malty flavor of the Scottish.

· Kilt Lifter Scottish Style Ale
· Chihuahua Brown Ale
· Old Monkeyshine Ale
· McEwan's Scotch Ale
· Bigfoot Barleywine Style Ale
· Burning Bird Pale Ale
· Flying Dog Ale
· Cardinal Pale Ale

PORTER ÷ A beer that is almost black in color. Porters are dry beers that have their origins in London.

· Blackwatch Cream Porter
· Thunderhead Schwarz Bier

MICROBREWS ÷ Locally brewed beers that vary in flavor and color. Microbrews generally are produced on a smaller scale than other beers.

· Wazi-Koki
· Full Sail White Cap
· Jumbie Bre
· Deep Canyon Amber
· RedCat Amber
· Raptor Red
· Electric Beer
· Mojito
· Woodchuck Cruzan
---
However, that doesn't mean that you get to partake in all 250 types of beer. With the presentation of your ticket, you will receive 24 tickets to give to the vendors in exchange for what they have brought for sampling. So, beer connoisseurs must choose wisely as to not waste their tickets.
There is even room at the festival for those who just want to hang out and have a good time. The organizers are selling designated driver tickets at the door to anyone who wants one.
"Designated driver tickets are available for anyone who does not drink alcohol for the discounted rate of $15 per person," Young said. "We'll have a good selection of non-alcoholic beverages for tasting."
In addition to being able to taste an excellent variety of beers, musical entertainment will be provided. Sunday Afternoon, a local band that has opened for the likes of Sugar Ray, will be playing the event. The band is looking forward to interacting with the crowd, however drunk they may be.
"Playing for tons of drunk people isn't unusual for SA, we play college bars all the time," said Dan Howarth, guitarist for Sunday Afternoon. "We thrive on that crowd response (and) energy at our shows, so the more people drunk and screaming the better."
In addition to playing at the festival, the band members plan to take part in the beer-driven fun. They also look to try some of the unique beers the festival is offering.
"Join in the festivities? Most likely," said guitarist Joey Unger. "I think I will only drink beers I have never had before. I don't think the beer festival is the place to go for a buzz off of Bud Light."
And, as Howarth added, "Sunday Afternoon proudly enjoys beer at every available opportunity."
Attendance at this outdoor venue is expected to be between 2,500 and 3,000, according to Young. The organizers expect people from all over Arizona and as far away as Texas to attend.
The organizers of the event want to make sure that only people with sample tickets are able actually sample the beer. They will be enlisting the help of the vendors to serve the beer accurately.
"They were trying to have a competition,' Arnold said. "Whoever had the most tickets at the end of the night won."