A little Q&A with Calexico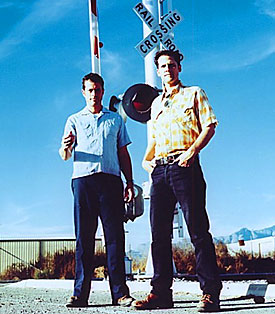 Photo courtesy of Touch and Go Records

Calexico's John Convertino and Joey Burns play at Club Congress on Friday.

By Jessica Suarez
Arizona Daily Wildcat
Thursday October 17, 2002


No other band seems to represent Tucson as much as Calexico. Their mariachi and country influences combine with narratives about Tucson and the Mexican border to evoke a vintage postcard-like vision of Tucson, complete with tumbleweeds, abandoned train depots and dusty dive bars.

The band consists of Joey Burns and John Convertino, along with an ever-changing line-up of guest musicians. Calexico, who will be releasing a new album titled Feast of Wire on Touch and Go Records, play their hometown on Friday at Club Congress. Burns answered a few questions between rehearsals at Solar Culture.

Wildcat: Was it difficult touring with a full mariachi band?

Burns: We don't always tour with a full mariachi band. There are normally four other guys that have been playing with us. It's been going good. We've got two musicians from Germany, also got a member of this band, Lambchop. Jacob Valenzuela plays with us, too. He graduated from the U of A.

Wildcat: Why did you first decide to move here?

Burns: Decided to move to Tucson to get away from L.A. We said, "Let's uproot and move." A lot of the bands that do do that come back.

Wildcat: Do you prefer being the focus of a band or the guy backing up other musicians?
---
Where and When...
Calexico play with The Black Heart Procession and the Radar Brothers at Club Congress, 311 E. Congress St., Friday. The show is all-ages and begins at 8 p.m. Admission is $12. Call 622-8848 for more information.
---
Burns: I like doing both. For me, we always enjoy backing up other musicians. We backed Howe Gelb (of Giant Sand) for a few years. Having that kind of flexibility and variety in your life is nice. That's really important, I think.
Wildcat: What are you doing right now?
Burns: It takes a while to get into the writing mode of this new record. I needed to just be at home and ride my bike to my favorite Mexican restaurant; to be able to hang out and not do anything is really important. A quintessential Tucson afternoon is when someone drops by unexpected, you go to a thrift store, you go out for coffee · an unexpected journey, where you meet all these interesting and talented people.
Wildcat: Are there any particular characters from southwestern history that you enjoy the most? What stories have influenced you?
Burns: For The Black Light, (Calexico's first album) I was reading Cormac McCarthy. One of the stories from his "Border Trilogy" was made into the movie "All the Pretty Horses." Read some Carlos Fuentes, Luis Urrea. I'm interested in the whole historical and cultural stories of the southwest and along the whole Mexican-American border. I'm interested in finding out more and help some of the situations. So the music is inspired by a lot of what is going on here.
It's not what our music is all about. Just being downtown, there is a lot going on down here. A lot of amazing characters here.
Wildcat: You did a soundtrack for the film "Committed." Do you write your albums as soundtracks?
Burns: We like to balance between doing soundtracks and doing regular songs, all this had made for interesting album material. But we're really flattered that Lisa Krueger asked us to be a part of her movie. I called her while she was at one of the actors' houses, so I got to talk to Heather Graham (who starred in "Committed") for 45 minutes.
Wildcat: Does Tucson still feel like your home? Are there other cities you consider your second home?
Burns: I really like San Francisco a lot. And Portland, and I really like this city, Kassel, Germany. That's where the musicians we play with are from. And I like Utrecht, Holland and Bordeaux, in France.