Online Exclusive: Enon comes to Solar Culture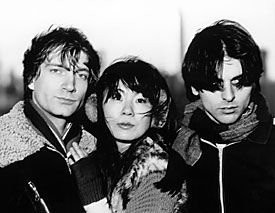 Photo courtesy of Touch and Go Records

Enon, who now play as a "power trio," perform at Solar Culture, 31 E. Toole Ave., on Sunday.

By Jessica Suarez
Arizona Daily Wildcat
Thursday October 17, 2002


John Schemersal started Enon after the sudden end of his previous band, Brainiac. After Brainaic's lead singer and songwriter Tim Taylor died in a car crash, Schemersal went into seclusion, emerging to record a four-track acoustic album under the name "John Stuart Mill." Schemersal moved to New York City soon after and began Enon with some friends. The band's first album, "Believo!" made many critic's top ten lists. The group's second album, "High Society," finds the band paired down to three members, with new member Toko Yasuda on bass. Schemersal answered a few questions while he was on the road.

Wildcat: Have you ever played in Tucson before?

Schemersal: I played there years and years ago.

Wildcat: Are we the smallest town you'll play?

Schemersal: The smallest place we've played was a place in Pennsylvania, I guess it's where the Pennsylvania Dutch are from. Lancaster, that's what it's called.

Wildcat: Does having a girl in the band immediately make people think she's the lead singer?

Schemersal: Not really, it will be true in the future. She's kind of like singing a lot of the songs, she sings about two-fifths of the songs. But the new stuff we're doing, there's nothing designated there yet, but she'll be singing a lot more.

Wildcat: Why did you decide to go with a more straight-forward rock sound? Was it because Enon has fewer members now?

Schemersal: The record was made as a four piece. That's our mission statement, that we're going to do something different next time.

Wildcat: Where do you live now?

Schemersal: We all live in Brooklyn.

Wildcat: What do you think of all the attention placed on Brooklyn, and the New York City music scene in general right now?

Schemersal: I really don't know what to say about it, for a long time I tried to catch up with the experience of living there, now I'm kind of in a place where I'm starting to enjoy myself. None of those things have to do with the excitement of music there. I don't know if it helps or hurts anything. I really don't know. It's just kind of there. The problem in New York is if something gets hyped up. I certainly don't want to pay $15 to see a show. It's kind of like irrelevant anyway, we tour a lot, so I haven't seen some of the other bands. But it's cool. It's kind of neat to be in a place where so much is being paid attention to.

Wildcat: When I saw you guys, you looked really young, how old are you?

Schemersal: We're all 21.We use Oil of Olay.

Wildcat: How long have you been playing music?

Schemersal: I've been playing professionally since I was 10. I was discovered playing bass in a show choir.

Wildcat: How is playing as a three-piece?

Schemersal: It seems to be easier to get stuff done and write songs, we play attention more to space. It's been good, so far. We're concentrating on the power trio.

Enon plays Solar Culture Gallery, 31 E. Toole Ave., Sunday at 9 p.m. The show is all-ages.