Online Exclusive: On the line with Black Heart Procession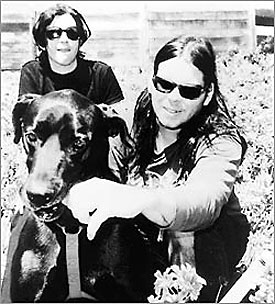 Photo courtesy of Touch and Go Records

San Diego's The Black Heart Procession, Pall Jenkins, left, and Tobias Nathaniel, play Club Congress Friday.

By Jessica Suarez
Arizona Daily Wildcat
Thursday October 17, 2002


After three albums of expansive and tragic laments, the Black Heart Procession surprised their fans with their fourth album, the somewhat-upbeat "Amore Del Tropico," a murder-mystery concept album full of tropical influences. Black Heart Procession's Pall Jenkins answered a few questions while waiting in line at a cell phone store in San Diego.

Wildcat: Have you ever played in Tucson before?

Jenkins: Yes I have, we played at the Hotel congress. A long time ago, I played a warehouse with my old band, Three Mile Pilot.

Wildcat: Are you disappointed that The Fall cancelled and you won't be playing with them?

Jenkins: I would have liked to have seen them for sure.

Wildcat: Are the narratives in your songs inspired by any stories?

Jenkins: It's a mixture of life and going through things and building the songs into stories as well.

Wildcat: What kind of books have you been reading lately?

Jenkins: Lately I've just been reading manuals for equipment manuals.

Wildcat: Does that have anything with producing your last album yourself?

Jenkins: Yeah, just because we got into buying a bunch of recording equipment and opening a studio ourselves.

Wildcat: What are you doing after your U.S. tour?

Jenkins: We do a European tour. Then we're doing a DVD, a murder mystery movie. Each song is a chapter in the story.

Wildcat: Are you working with a director?

Jenkins: We're working with a small production company. But I'm writing and directing it.

The Black Heart Procession play with Calexico and the Radar Brothers will be at Hotel Congress, 311 E. Congress on Friday. The show is open to all ages. Admission is $12. Call 622-8848 for more information.