Weekend Revue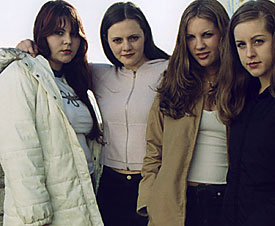 Photo courtesy of Atlantic Records

One-time jailbait rock În' roll princesses, The Donnas are all grown up now and they're back with a new studio album, titled Spend the Night, due out this Tuesday from Atlantic Records.

By Biz Bledsoe
Arizona Daily Wildcat
Thursday October 17, 2002


Music Releases
---

· Assemblage 23 Defiance (Metropolis)
· Autumn's Child Progressive World(Cedar n Sage)
· Frank Avitabile Bemsha Swing (Dreyfus)
· Badly Drawn Boy Have You Fed the Fish?(ARTISTdirect)
· Bikeride Morning Macumba (Hidden Agenda)
· Black Coffey Black Coffey (Motown)
· Blue Eyed ChristAmerican Whore (Ultraplanet)
· Blues Traveler What You and I·(iMUSIC)
· The Donnas Spend the Night(Atlantic)
· The Exies Inertia (Virgin)
· Field Mob From tha Roota to tha Toota(MCA)
· Foo Fighters One by One (RCA)
· Haujobb Vertical Theory (Metropolis)
· Jackyl Relentless(Humidity)
· The Juliana Theory Love(Epic)
· Koufax Social Life (Vagrant)
· Rocket from the Crypt Live from Camp X-Ray(Vagrant)
· Kelly Rowland Simply Deep(Columbia)
· Thursday Five Stories Falling(Victory)

Movie Releases
---
Theaters
· "Auto Focus" (Sony)
· "The Ring " (Dreamworks)
· "Abandon" (Paramount)
· "Punch-Drunk Love" (Columbia)
· "Welcome to Collinwood" (Warner Bros.)
Rentals
· "Mr. Deeds" (Columbia)
· "Y tu Mam‡ TambiŽn" (Fox)
· "The Wishmaster 4 ·" (Artisan)
· "The Shipment" (Promark Entertainment)
Concerts
---
This Thursday, partake in '90s Decadence at Club Congress, 311 E. Congress St., with DJ Sean T. Hear all the best dance music from the '90s and enjoy beer specials. Call 622-8848 for more information.
On Friday, Oct. 18 see Open Hand headline at Skrappy's, 201 E. Broadway at 8 p.m. sharp. Opening will be Set In Miles, A Single Broken Wish, and Son Atlas. Tickets are $6 in advance at ticketweb.com. Call 798-333 for more information.
Saturday, Oct. 19 catch The Mean Reds, 8 Days and Waiting, and Cambridge open for The Okmonics, also at Skrappy's. Tickets are $6 at the door and the show starts at 7 pm.
This weekend, come see "Heavy Breathing," a comic monologue by the executive producer of "Politically Incorrect with Bill Maher." The show includes material based on the career of this stand-up comic and former soft-core porn writer. Tickets are $18. Call 884-0672 for more information.
On Wednesday, Box Car Racer will play at the Rialto Theatre, 318 E. Congress St. Call 798-3333 for more details.
Events
---
On Friday from 7:30 p.m. to 9:30 p.m., San Juan Pueblo artist Geronima Montoya shares stories about her life and art at the Arizona State Museum on the UA campus. The event is part of a lecture series to celebrate the new exhibit "Connections Across Generations: the Avery Collection of American Indian Paintings." Cost is $8 for adults and free for students. Contact Lisa Falk, 626-2973, for more details.
On Saturday morning, meet at Old Main on the UA campus at 7:30 a.m. to participate in the Walk To Cure Diabetes. Each fall, thousands of walkers across Arizona unite on behalf of the Juvenile Diabetes Research Foundation to raise money to fund the research that will find a cure for diabetes. Call 327-9900 to find out more.
Go to FitCenter, 5555 E. Fifth Street from 1 p.m. to 5 p.m. on Saturday and learn how to Fightback! This new approach to women's self defense requires no speed or strength and is open to women ages 10 and up. Call 991-8193 for further details.
Go to Red Barn, 948 N. Main St. at 1:30 p.m. on Sunday to see Basketful of Puppets, a production by the New Kiva Motions Puppet Theatre, Arizona's premier professional puppet theatre since 1980. Call 887-5144 for more information.