It's not just about Sex ... wait, yes it is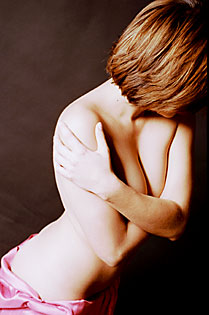 By Lisa Schumaier
Arizona Daily Wildcat
Thursday November 14, 2002


The Sex Worker Arts Festival features films, lectures and live demonstrations about various aspects of getting your freak on

Let's talk about sex. Actually, let's throw a four-day bash with prostitutes, hustlers, sex slaves, dommes, tranny boys and girls, filmmakers and artists to arouse, titillate and provoke us. The Sex Worker Arts Festival is coming to a corner near you. So, pull over and roll down your window to learn about America's sex culture from the pros.

Juliana Piccillo is the director of the Sex Worker Arts Festival. Her film, "I Was a Teenage Prostitute," was shown at last year's festival and will be shown again tonight. As a former sex worker, she realizes the importance of encouraging sexual freedom, and began the festival in Tucson to prove it.

"This is not about promoting or not promoting this type of work. It is about women's empowerment in order to make healthy choices for themselves ÷ without being stigmatized," Piccillo said.

The event is an offshoot of a Sex Worker Arts Show that began in the northwest and a Sex Worker Film Festival in California. Tucson was a sexual festivities virgin until last year, when Scarlet Harlot, sex worker and outrageous presence in the performances this weekend, brought the collection of films shown in San Francisco to Tucson.
---
Where and When
· The Sex Worker Arts Festival runs Thursday through Sunday.
· The Sexworker's Art Show Tour begins at 8 tonight at the Rialto Theatre, 318 E. Congress St. Tickets are $12 at the door.
· For all listings, visit http://www.sexworkerartsfestival.com.
---
"Last year, a lot of people came out that weren't sex workers ÷ just people that were so happy to talk about sex, have it out there and have fun," Piccillo said. "People were able to admit they liked pornography."
This year the festival has progressed from its inception. The celebration includes not only films, but performances, parties, lectures, readings and workshops. One of the most controversial workshops is on fisting. Fisting is when a male or female cups his or her lubricated hand and slowly inserts the fist into the rectum or vagina of another person as a means of sexual stimulation. The festival features live demos of a female anally fisting a male.
"It is to talk about safety and technical ways of doing it," Piccillo said.
However, other events are more inclusive. Piccillo was a media arts teacher for four years at the UA, so she had college students in mind when planning the events.
"A lot of coeds are dancing for money," Piccillo said. "Your age group gets insanely mixed messages about sex, especially women. Because this is the era of the booty-licious Pornstar T-shirt and the popstar that claims to be a virgin but dances around in clothes that are so skimpy that we can examine her for virginity.
"It's also the era of resurgence in the religious right and abstinence rallies. It's a confusing time."
Out of these conflicting messages comes an enthusiasm to know more ÷ to discuss what has been hushed for too long.
"When I speak at universities around the country, I find students are eager to talk about these issues," Piccillo said. "Defining sex-workers as whores and bad girls is just a step away from defining any woman as a good or bad woman; virtuous or non-virtuous. It is not just about sex workers, but how women's sexuality is really prescribed."
David Sterry has acted in hundreds of commercials and television shows, and was most notably on a season of "The Fresh Prince of Bel-Air." He will be performing excerpts from his book, "Chicken: Self Portrait of a Young Man for Rent." Seventeen and homeless, he decided to work as a gigolo. His story is unique because he serviced women, when most male prostitutes service men.
"I was a freshman in college while I was doing this work, putting myself through college at Reed," Sterry said.
His story relates to university students because, although he led a very secretive and private life because of his occupation, he was still worrying about papers, grades and girlfriends just like any other student.
"College students are fascinated by this. It is an aspect of our culture that is very underreported," Sterry said. "You would be shocked how many college students work in the sex business. After every performance, a couple of kids amble up to me admitting their stories, and they look like the most normal and average people. So what I like to say is that sex workers walk among us."
Daniela Ontiveros is a media arts junior showing her own film, "Mango Erotica." Handing out flyers in her classes, she noticed some surprised reactions from students.
"A couple of people just pushed it away once they saw the word sex, but come on, I know you're constantly thinking about it," Ontiveros said.
"There (are) a lot of taboos and mystery. Don't wonder about it, educate yourself about sexuality. The more you surround yourself, the less you'll be embarrassed."
Ontiveros brings up an integral objective of the festival, the role of education.
"It's not only about entertainment and fun, but also learning. That makes it important to the community," Ontiveros said.
Dr. Smith, a sociology professor, is teaching a women and work class this fall. As a feminist and teacher, she sees relevance in the festival because various aspects of sex work require increased awareness.
"In every city, you are going to get racy stuff; but if it is actually educational, then something positive can come from that," she said.
Her class has recently studied and discussed women in the sex industry, specifically the oppression that has enveloped workers.
"For so long in the history of women, they have been unable to express themselves in a sexual manner," Smith said.
"It can be an empowering experience for people that are in it by choice. I am sure that they are all in it as a celebration of their occupation."
However, there are more than just educational components to sex work. As a controversial business, there are inevitably political implications attached. During a time when America is one of the few countries left keeping prostitution illegal, opinions are individual and several groups' battles are ongoing.
"Sex for money is the oldest business in the world. You cannot stop it. The only thing that prohibition does is takes the means of production and puts it in the hands of gangsters, which are the pimps, Internet slum lords and cops that take advantage of workers' situations," Sterry said. "It makes 100 percent sure that women, especially those without resources, will be beaten and abused."
When stripped down to only its high heels, the festival is about choice.
"It is important that women know that their sexuality is their choice. The law does not need to decide for you," Piccillo said. "As an adult woman, you do not need to be protected from sex. We do live in a society that is dangerous for women, but statistically it is far more dangerous to be at home with your spouse than at an escort service."
Break free from those oppressive chains, but still use your handcuffs. This weekend, you can carry your sexuality around like a whip, assert confidence and demand respect. Get a lap dance or enjoy a striptease, all in the name of education. SWAF will perform various sexual favors so you can foreplay your way to freedom. Come to SWAF and get some, because this goes beyond a society saran-wrapped in sexual tension.
"It is about the real voices of men and women, telling their own stories, rather than statistics that are questionable or stories that are made-for-TV and make it look really lurid," Piccillo said. "It is really a coming out celebration, comparable to the gay movement. So many, myself included, stay in the closet for years and years. To say that I was a sex worker, love me or leave me, is a huge thing.
"You cannot keep a secret like that without some level of self-loathing, regret or shame. It is corrosive, even if it is not the whole of yourself."