Weekend Revue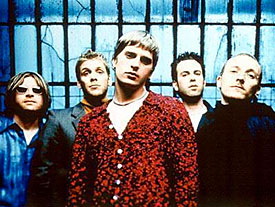 Photo courtesy Atlantic Records

Matchbox Twenty releases their album "More Than You Think You Are," Tuesday.

By Lindsay Walker
Arizona Daily Wildcat
Thursday November 14, 2002


Movie Releases
---
Theaters
· "Harry Potter and the Chamber of Secrets" (Warner Bros)
· "Lockdown" (Screen Gems)
· "Ararat" (Miramax)
· "The Crime of Father Amaro" (MGM)
· "Standing in the Shadow of Motown" (Artisan)
· "Interview with the Assassin" (Magnolia)
· "The Way Home" (Paramount)
Rentals
· "'R Xmas" (Franchise)
· "13 Conversations About One Thing" (First Look)
· "A Diva's Christmas Carol" (Viacom)
· "Elling" (Arsenal)
· "Juwanna Mann" (Warner Bros)
· "Reign of Fire" (Touchstone)
· "Spirit: Stallion of the Cimarron" (DreamWorks)
· "Sunshine State" (Green/Renzi)
Music Releases
---
·Audioslave Audioslave(Epic)
· Toni Braxton More Than a Woman(La Face)
· Covenant Northern Lights(Metropolis)
· Croc Shop World (Metropolis)
· John Cunningham Happy-Go-Unlucky (Parasol)
· Craig David Slicker Than Your Average (Atlantic)
· George Harrison Brainwashed (Dark Horse/Capitol)
· Helms McCarthy (Kimchee)
· Unknown Hinson Rock Īn' Roll Is · (Capitol)
· Hot Rod Circuit Been There, Smoked That (TCR)
· Ja Rule The Last Temptation (Murder Inc./Def Jam)
· Kittie Safe (Artemis)
· Talib Kweli Quality (MCA)
· Kyoto Jazz Massive Spirit of the Sun (Compost)
· Matchbox Twenty More Than You Think You Are (Lava/Atlantic)
· Steven McDonald Group This Is Not a Rebellion (Five Foot Two/Oglio)
· Menthol Danger Rock Silence (Hidden Agenda)
· Mudvayne The End of All Things · (Epic)
· Chris Murray Raw (Asian Man)
· Owen No Good for No One · (Polyvinyl)
· Piano Magic Writers Without Homes (4AD)
· Dan Potthast Sweets and Meats (Asian Man)
· Rainer Maria Earrings (Polyvinyl)
· Noel Sanger Summer Breeze 2 (Nettwerk)
· Scarboro Aquarium Club Poisoned (Le Grand Magistery)
· Screamin' Cheetah Wheelies Shakin' the Blues (Dark Reign)
· The Wil Seabrook Band The Wil Seabrook Band (Maverick)
· Marvin Sease I Got Beat Out (Jive)
· Erick Sermon React (J Records)
· The Skulls Therapy for the Shy (Dr. Strange)
Events
---
The International Arts Society Film Program presents "The Color of Paradise," Friday at 7:30 p.m. in the auditorium of the Modern Languages building. This Iranian film, directed by Majidi ("The Children of Heaven"), tells the story of young Mohammed, a blind boy who is an inspiration to his father. This film is free and open to the public.
The Essential Sweatlodge Box Set performs in the Hotel Congress banquet room, 311 E. Congress St. Tucson's own sketch comedy troupe performs Friday and Saturday from 7 p.m. until 9 p.m. The cost is $8, or $7 with a can of food. For more information, call Nick Seivert at 375-3715.
The Street Minstrels perform for free Friday night from 7 until 9. This mix of swing, jazz and American music can be heard at Bookman's, 6230 E. Speedway Blvd. For further details, call Colin Waite at 748-9555.
Tucson Tourbaby will perform Friday from 7 p.m. until 9 p.m. at the Unitarian Universalist Church, 4831 E. 22nd St. This collaboration includes artists such as Michael Lich, Sheryl Clapton, Michael Soli, David Rose and the Maldonados, and presents a classical guitar concert featuring folk and flamenco music. The cost is $8 at http://dotucson.com, and $12 at the door. For more information, call David Rose at 790-8477.
The Berger Performing Arts Center, 1200 W. Speedway Blvd., presents music by, for and about women. Jamie Anderson and The Therapy Sisters perform on Saturday at 8 p.m. The cost is $14 in advance and $16 at the door. Call 327-4809 for more details.
Slide blues singer and guitarist Stefan George presents his music Friday at 3 p.m. at Bookman's, 1930 E. Grant Road. The event is free of charge. Call 325-5767 for more information.
The Tucson Guitar Society presents David Leisner Saturday night at 7:30 at the Newman Center, 1615 E. Second St. This internationally renowned performer will play his classical guitar for $15. Call Bob at 850-1253 for details.
A local dance troupe presents "Trifecta," Saturday at 7:30 p.m. This mix of modern, Japanese and exaggerated dance can be seen at the historic YWCA, 738 N. Fifth Ave. The performance costs $7. Call Brandon at 792-4265.