Not a usual Mexico trip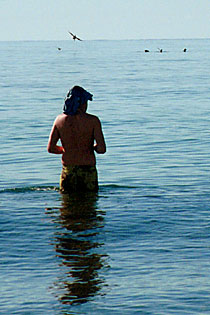 RANDY METCALF/Arizona Daily Wildcat

Peter Gaube, the vice president of the Marine Awareness Conservation Society, wades in the water off the beach in Rocky Point, Mexico, Sunday morning. Ten club members went to Rocky Point to study the marine life in the Sea of Cortez. See Page 8 for a photography feature on their trip.

By Kristina Dunham
Arizona Daily Wildcat
Wednesday November 27, 2002


Marine biology club members cherish hands-on experience

Katrina Aleksa has wanted to be a marine biologist since she was in third grade.

But for Aleksa, a biology sophomore, one of the only ways she could participate in marine biology after the UA's ecology department cut two marine biology classes this fall was by joining a new club formed for marine enthusiasts.

Aleksa joined the Marine Awareness and Conservation Society, she said, "to keep up with things that are going on in marine biology and to keep involved in (its) study."

She gained some hands-on experience last weekend, when she and nine other MACS members traveled to the Intercultural Center for the Study of Deserts and Oceans (CEDO) in Puerto Peľasco, Mexico, to explore the ins and outs of the Mexican coastline.

When the tide was out Friday night, Aleksa and other club members went tidepooling, with the help of flashlights and the stars, looking in puddles of water and turning over rocks to find sea creatures around the rocky shore near CEDO.
Just after reaching the shore, club vice-president Peter Gaube turned over a half-submerged rock and pointed out patches of bryozoan and tunicates to the others, explaining how the tunicates, which looked like a glob of slime on the rock, are in the same phylum as humans.
Other upturned rocks revealed a baby octopus, flatworms, fire sponges, turban snails, brown carpet anemones, blue algae, lumpy claw crabs and an apricot sea slug.
Kelly Chrisler, an education senior and chairperson for the club's education committee, bent over the rocks and tried to touch the lumpy claw crab she found, warning everyone that they pinch hard.
"I know from experience," she said.
The marine group was founded this semester by interdisciplinary studies senior Ben Tudor, now the club's president, and a small group of other former marine biology TAs who were upset when there weren't any marine biology classes offered this fall.
Saturday afternoon, Tudor photographed club members as they literally dove into the world of marine biology and into the 72-degree water of Cholla Bay. Shortly afterward, he decided that he had to join them and traded his camera for a snorkel and fins.
MACS, which is sponsored by student government, is open to students and the public. It has nearly 70 official members and 120 listserv subscribers.
"There is a huge interest in marine biology," said Katrina Mangin, ecology professor and advisor to MACS. "There is such a draw for undergraduates, mostly because of the environment and the animals."
Emily McIlroy, a studio art sophomore, joined because she was looking for something to become involved in when her resident assistant told her about the new club.
While tidepooling Friday night, McIlroy, came across a large starfish and proudly announced, "It's a spiny brittle star! I just saw it in a book."
Then she picked it up.
"I like to touch things," McIlroy said.
Tudor said the opportunity to interact with a marine environment was one of the more important aspects of the trip.
"To see everything up close really instills interest," Tudor said.
MACS works to introduce high school students from around Tucson to marine biology and is planning several public guest lectures next semester.
While UA did not offer any marine biology classes this fall, Mangin said the ecology department will offer a course called Marine Discovery in the spring and that she might teach Introduction to Marine Biology again in the fall.
For information or to join MACS, visit: http://clubs.arizona.edu/~marine.