Union might miss deadline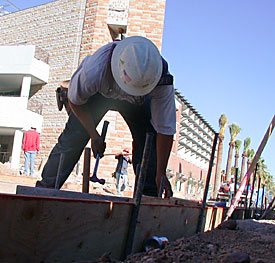 KEVIN B. KLAUS/Arizona Daily Wildcat

Construction worker Ray Salcido works on the Student Union Memorial Center Friday afternoon. The current deadline for completion is Dec. 15, but officials say construction may not be finished by winter break.

By James Kelley
Arizona Daily Wildcat
Wednesday November 27, 2002


The Student Union Memorial Center may miss its Dec. 15 deadline for completion, though the project's finish date has already been pushed back from April to July to December.

The student union's construction, which started during the summer of 1999, may not be completely finished by the beginning of winter break, but parts essential to services and business in the union will be, officials said.

"I think the majority will be (done). Some areas will be behind. Landscaping is a major area behind," said Dan Adams, Arizona Student Unions director. "Our goal is to have all programs and services for the beginning of second semester. We fully expect it to be 99 percent operational (by the beginning of the second semester)."

Mostly just landscaping and the sidewalks are the areas that still need to be done, said Chris Kraft, Facilities Design and Construction project manager for the union.

Once it is finished, staples of the old Memorial Student Union like lounge spaces; Union Club; a sit down restaurant; the Cellar, which was a dark lounge that hosted performances; Sam's Place, a gaming room; a ballroom; an art gallery; and the Gallagher Theater will return.

"The substantial completion date is Dec. 15," Kraft said. "The exterior work may not be 100 percent completed."

The groundbreaking for construction of the current union occurred in late July 1999, and in November of that year, the demolition of the old Memorial Student Union began. The new union was built where the old union once stood.

"It's taken a long time and I wish they would finish it, but they're working hard and you've got to give them credit. It looks nice," said Kelly Thompson, a psychology senior.

In October 2000, there was optimism that the student union could be finished early, a few months before April. In a construction update from June 21, which was still on the Arizona Student Unions' Web site last night, Adams wrote, "There are even rumors that the project may finish before the Dec. 15 deadline."

The deadline means that the UA must be able to use the Student Union by then, Kraft said.

"It means bona fide use of the facility by December," Kraft said. "Some minor things may need to be taken care of, but we'll be able to use the facility."

The student union's grand opening is scheduled for the week of Feb. 17, 2003.