The good news: It's over
Season-ending loss to ASU ties Wildcats for last place in Pac-10
If the sting from a 34-20 loss to rival Arizona State wasn't enough pain for the Wildcats, the end to Arizona's worst season since joining the Pacific 10 Conference should be.
The Wildcats (4-8, 1-7 Pac-10) closed out their worst season since 1957 (1-8-1) Friday when they fell to the Sun Devils 34-20 at Arizona Stadium in college football's oldest rivalry, the Territorial Cup. [Read article]



Commentary: Seniors not the story anymore
One of the sayings John Mackovic was most fond of using, before everyone became familiar with his affinity for "You're a disgrace to your family," was that a season could be divided into four quarters, much like a football game.
Interestingly enough, Arizona's swan song against ASU this year mirrored its season. The first two quarters Friday were promising, but by no means a harbinger of anything great ÷ much like the preseason and first four games of the year. [Read article]




Cats crush No. 8 Dawgs
Season-ending loss to ASU ties Wildcats for last place in Pac-10
Maybe it was the record crowd, or maybe the women's basketball team is on the right track, but whatever it was Saturday night, head coach Joan Bonvicini hopes it lasts all season.
In front of 5,069, the second-largest home crowd to ever watch a UA women's basketball game in McKale Center, the Wildcats (2-1) dominated No. 8 Georgia 70-49. [Read article]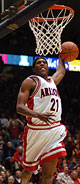 Men's Basketball Notes: Practice blamed for sloppy half
Despite starting sluggishly and turning the ball over 12 times in the first half, the Arizona men's basketball team pulled itself together at halftime, dropping Northern Arizona 101-66 in McKale Center Wednesday.
It took until that second half against NAU for UA (2-0) to start protecting the ball better, with the Wildcats turning the ball over just three times in the half. In the three previous periods of play, Arizona had turned the ball over 32 times against Western Kentucky and NAU. [Read article]




UA to host tourney games
As David Rubio sat waiting to hear where his team would end up in the 64-team field for the 2002 NCAA Division I Women's Volleyball Championship, he expected the worst.
And why not? For the past 10 years, the UA women's volleyball head coach has never been satisfied with his team's selection.
That all changed last night when it was announced on ESPNews that the Wildcats (17-11 overall) will not only host the first- and second-round games, but the team also received a No. 10 seed. Neither Rubio nor his team expected such a high ranking, especially after losing to Utah on Saturday 3-1. [Read article]





showads('mediumbutton'); ?>

showads('bigbutton'); ?>