Men's Basketball Notes: Practice blamed for sloppy half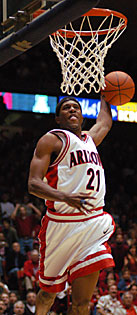 KEVIN B. KLAUS/Arizona Daily Wildcat

Freshman guard Hassan Adams goes up for a wide-open slam dunk that he ends up missing during the second half Wednesday against NAU. The freshman finished with 21 points.

By Brett Fera
Arizona Daily Wildcat
Monday December 2, 2002


Despite starting sluggishly and turning the ball over 12 times in the first half, the Arizona men's basketball team pulled itself together at halftime, dropping Northern Arizona 101-66 in McKale Center Wednesday.

It took until that second half against NAU for UA (2-0) to start protecting the ball better, with the Wildcats turning the ball over just three times in the half. In the three previous periods of play, Arizona had turned the ball over 32 times against Western Kentucky and NAU.

"We did not have a good practice (Tuesday), and we played that way in the first half," head coach Lute Olson said. "I think it will be a learning experience for (the players), that you're going to play how you practice."

Defensively, turnovers have been a key to UA's success through two games this season, as the team's vaunted full court-press has forced 27 turnovers per game so far.

Three-point shooting was a major factor in Arizona's offensive outburst against NAU, as sophomore guard Will Bynum shot 6-of-11 from long range, with all 18 of his points coming on three-pointers. Senior guard Jason Gardner also had a hot hand, shooting 5-of-6 from three-point range in the game as part of his team-leading 24 points.
---
Just over four minutes into the first half against NAU, senior forward Luke Walton rolled his right ankle. He did not return to the game, but was on the bench in the second half, wearing a walking boot on his right foot.
The injury is on the same ankle that sidelined the preseason All-American for UA's first exhibition game, although the team trainer said the new sprain was in a different place than the first.
Walton did not practice during the team's full-court scrimmage Saturday, but did go through running drills along with riding the exercise bike.
"Luke wants to play and thinks that he's ready," assistant coach Josh Pastner said. "If he can practice (today), we think he will be able to play (tomorrow)."
Sophomore guard Salim Stoudamire looks to be fully recovered from the preseason ankle injury that caused him to sit out the Wildcats' first two games.
Stoudamire participated in the entire scrimmage on Saturday, showing no ill-effects of the high ankle sprain on his left foot.
Pastner said choosing who will start at shooting guard for the Wildcats would be a game-time decision, but Olson said last week that Stoudamire would not be "punished" for being injured and would likely return to the starting lineup.
"I'm hoping that we'll have a full complement of guys on Tuesday against Saint Louis, including Luke and Salim," Pastner said.
---
With the team's 35-point rout of NAU, UA has topped the 100-point plateau in both of its games. In 34 games last season, the Wildcats did not break the century mark once, despite scoring 90 or more points 10 times.
A bit of controversy ensued near the end of the game, however, in regard to breaking that barrier. With the shot clock inactive and just seconds remaining in the game against NAU, Olson called Wildcat reserve guard Fil Torres back to mid-court with the Wildcats holding a 32-point lead, 98-66.
As the clock ran down, it appeared as if Torres, a senior walk-on with just three prior game appearances in his career, would hold on to the ball and let time expire. Rather, he dribbled toward center court for a few seconds after the NAU defense had retreated and, amid cheers by the McKale Center crowd for him to shoot the ball, Torres drained a thirty-foot three-point shot as the buzzer sounded.
"That was in really poor taste," said Olson following the game. "(Torres) wasn't listening to me. What that tells me is he doesn't want to play the next three or four games."
Arizona was a 34-point favorite prior to tip-off, and would not have covered the spread without Torres' buzzer-beating three-pointer that rounded out the scoring at 101-66.
---
Olson was honored three times last week for his induction into the Naismith Memorial Basketball Hall of Fame, all part of "Lute Olson Hall of Fame Tribute Week."
Olson was the guest of honor at a Hall of Fame tribute banquet at the Sheraton El Conquistador resort Tuesday night. In attendance was Naismith Memorial Basketball Hall of Fame president and CEO John Doleva and fellow 2002 inductee Manny Jackson, CEO of the Harlem Globetrotters.
Following the victory over NAU on Wednesday, Olson was again presented his Hall of Fame jacket and ring during a ceremony near center court. He was honored for a third time by President Pete Likins and athletics director Jim Livengood during halftime of the Arizona-Arizona State football game Friday at Arizona Stadium.