UA to host tourney games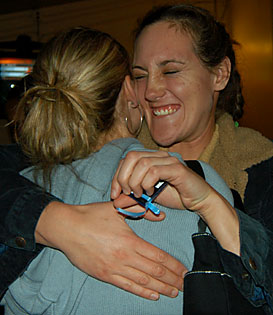 SAUL LOEB/Arizona Daily Wildcat

Volleyball senior Lisa Rutledge hugs freshman Bre Ladd after the team's No. 10 seed and home matches were announced last night.

By Maxx Wolfson
Arizona Daily Wildcat
Monday December 2, 2002


As David Rubio sat waiting to hear where his team would end up in the 64-team field for the 2002 NCAA Division I Women's Volleyball Championship, he expected the worst.

And why not? For the past 10 years, the UA women's volleyball head coach has never been satisfied with his team's selection.

That all changed last night when it was announced on ESPNews that the Wildcats (17-11 overall) will not only host the first- and second-round games, but the team also received a No. 10 seed. Neither Rubio nor his team expected such a high ranking, especially after losing to Utah on Saturday 3-1.

"We are obviously very excited," he said. "It's almost like the Utah loss didn't hurt us at all. I think the bracket is good and I'm excited."

Unlike past years, the Wildcats will not have to face a Pacific 10 Conference team until the Elite Eight, in a potential matchup against No. 2 Stanford.

When the Pacific Regional bracket was announced, the whole team, which watched anxiously from its seats at Old Chicago, cheered in what almost seemed like amazement that it will get to spend the weekend at home and not on the road like it has the last two weeks.

"I was really shocked and this is really a great surprise to have," said freshman All-Pacific 10 Conference player Kim Glass.

UA will begin play Thursday against Texas-Arlignton (26-6), the same team against which the Wildcats began their season back in August. Arizona defeated the Mavericks 3-1.

"I barely remember playing against them, but I do remember they were pretty bad," senior Shannon Torregrosa said. "But that doesn't mean that we will take them lightly."

Arizona and Texas-Arlington will be joined in the Pacific Regional by Texas (22-8) and an Indiana (20-12) team that senior setter Laurie Gardner is very familiar with.

Gardner transferred from the Hoosiers in the offseason and might get the chance to play against her old team if it can get by Texas and if the Wildcats can get by UTA.

"I never expected to get a chance to play against them," she said. "I have mixed emotions about it right now."

The Wildcats hope that starting out the tournament at home will lead to a return trip to the Final Four, which will be held this year in New Orleans.

"This is the best-case scenario for our team," senior Lisa Rutledge said.

This year marks the seventh consecutive season and the ninth in 11 seasons under Rubio that the Wildcats will take part in postseason play. Arizona is 7-0 all-time in tournament matches held in McKale Center. The Wildcats last hosted the first and second rounds in the 2000 season and defeated Alabama A&M and Michigan to advance to the Sweet 16.

All eight Pac-10 teams eligible for postseason play made it into the round of 64.

"I think that shows that the Pac-10 is the best conference in the country right now," Gardner said.